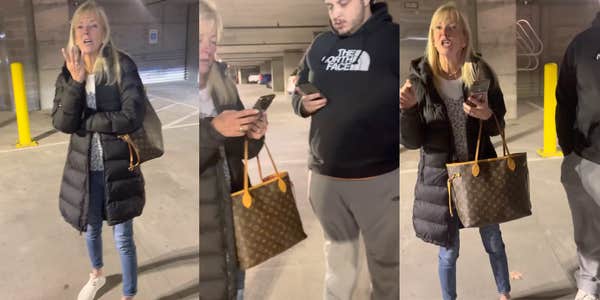 A viral video shows a white woman and her son shouting at a Black employee that he didn't "belong" in the secure garage of their Nashville apartment building on Saturday night. After the white man appeared to attack the man filming, the white woman called 911.
The cellphone footage was posted on the subreddit r/Karens and YouTube by Johnny Martinez, who goes by @Medium-Smell-6195.
Martinez filmed the confrontation between himself and a pair that he calls a "Karen and her son" that ended with a 911 call. He said the two were "racist people" who "assaulted" him because he's Black.
According to Martinez, the event took place a little after 8pm while he was working at his job and checking car permits in the parking garage of the River House apartments in Nashville.
The white woman and man followed Martinez around before the woman allegedly said, "You don't belong here, how did you get in here?" Martinez said he told her that he was on the premises for his employer, but they didn't believe him. In the video, they press him to explain why he's there, if he lives there, and how he got inside the parking garage.
Click here to read more.
SOURCE: The Daily Dot, Kathleen Wong