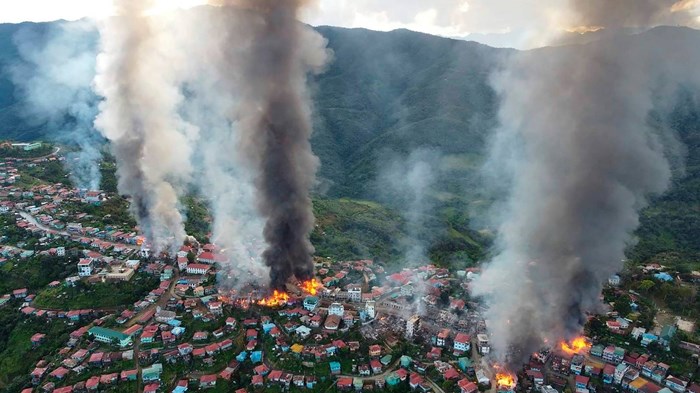 More than 160 buildings in a town in northwestern Myanmar, including at least two churches, have been destroyed by fires caused by shelling by government troops, local media and activists reported Saturday.
The destruction of parts of the town of Thantlang in Chin state appeared to be another escalation in the ongoing struggle between Myanmar's military-installed government and forces opposed to it. The army seized power in February from the elected government of Aung San Suu Kyi, but has failed to quell the widespread resistance.
The Chin state is a heavily Christian area in the otherwise majority-Buddhist country. Over 90 percent of the ethnic Chin people identify as Christian, many of them Baptists after the history of Baptist missionaries in the region.
A government spokesman denied "nonsense allegations being reported in the country-destroying media," and blamed insurgents for instigating the fighting and setting the fires.
Human rights groups and UN experts recently warned that the government is planning a major offensive in the country's northwest, including Chin state, along with the regions of Magway and Sagaing. Residents of the rugged area have a reputation for their fierce fighting spirit, and have put up stiff resistance to military rule despite being only lightly armed with single-shot hunting rifles and homemade weapons.
Click here to read more.
Source: Christianity Today