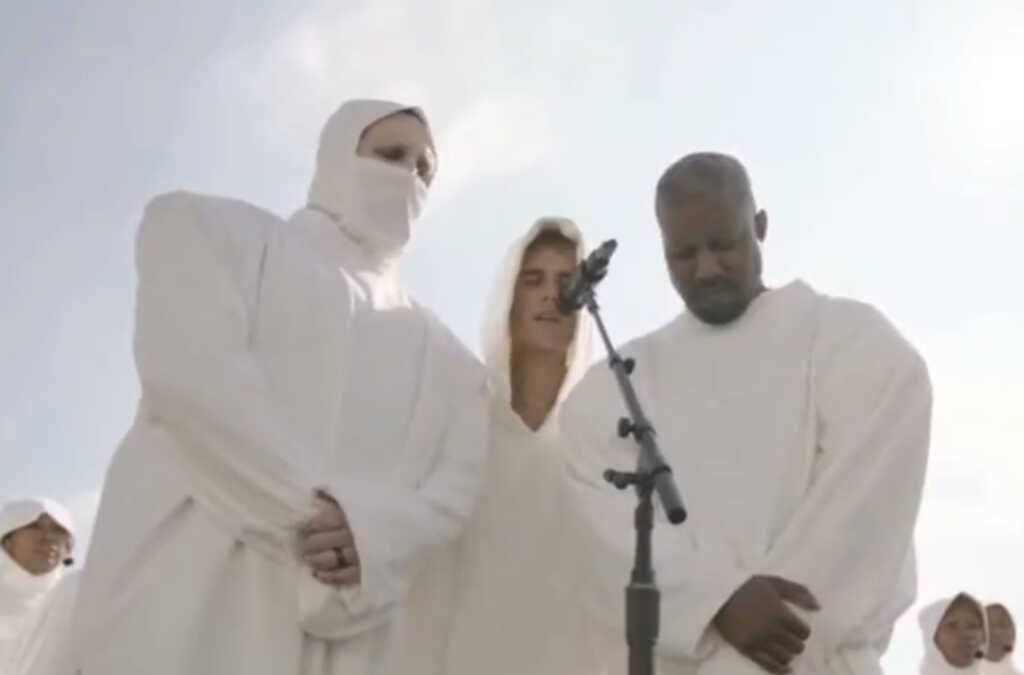 Rapper Kanye West is continuing his "Sunday Services," the latest of which happened this weekend and featured pop singer Justin Bieber and rock artist Marilyn Manson.
While Bieber was no surprise to the stage, Manson — whose real name is Brian Hugh Warner — was certainly unexpected. The 52-year-old rocker is currently facing several lawsuits over alleged sexual, emotional, and physical abuse.
At the start of the service, West's choir sang "No Child Left Behind," a track from his latest album, "Donda." Every person participating in the performance was decked out in white, with Manson wearing a white mask over half his face.
Bieber — flanked by Manson and West, whose legal name is now "Ye" — could be heard leading a prayer, asking for the Holy Spirit to indwell them.
"Thank you for your forgiveness, thank you for your Holy Spirit that dwells in us, thank you for your majesty," Bieber prayed. "God, thank you for your people. … Wrap us with your love, show us who you are. … Thank you, Jesus."
Toward the end of the prayer, the 27-year-old entertainer declared, "We cast out any demonic activity that would try to steal our peace today, or steal our joy."
Manson — who holds an honorary priesthood, as it's called, from San Francisco's First Church of Satan, of which he is a member — appeared at the event as he's facing serious allegations from his former girlfriend, Evan Rachel Wood.
Wood has alleged, with others, that she suffered years of physical, sexual, and psychological abuse from Manson.
"He started grooming me when I was a teenager and horrifically abused me for years," she said in February. "I was brainwashed and manipulated into submission. I am done living in fear of retaliation, slander, or blackmail. I am here to expose this dangerous man and call out the many industries that have enabled him, before he ruins any more lives. I stand with the many victims who will no longer be silent."
Manson, whose stage name is inspired by Hollywood icon Marilyn Monroe and infamous cult leader Charles Manson, has denied Wood's claims.
Source: Faithwire