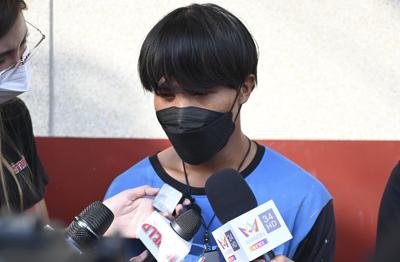 A woman in Thailand denied but later confessed after seeing the CCTV footage to cutting the support rope for two painters. No one is sure her motive, but she was apparently frustrated and angry she was not told they would be doing work. She left them hanging above the 26th floor until a resident rescued them.
A video clip on social media showed two painters asking the residents on the 26th floor to open the window and let them in. One of the painters, a Myanmar national named Song, told the Thai media that he and his two friends had lowered themselves from the 32nd floor to repair a crack on the building.
When he reached the 30th floor, he felt that the rope was heavier and when he looked down, he saw someone on the 21st floor open a window and cut his rope. He tried asking for help from other units, but nobody was in. The third colleague continued to support them from the top floor, said Praphaiwan Setsing, the resident who saved them.
Praphaiwan said her British husband noticed one painter signaling for help and called her to talk to them.
The woman could face a prison term up to 20 years if found guilty on a charge of attempted murder.
– BCNN1