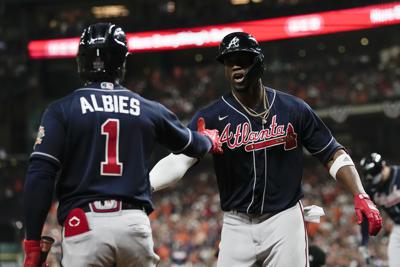 As the World Series shifts to Atlanta, some TV viewers may be offended to see Braves fans still chopping and chanting in force.
After teams in the NFL and Major League Baseball have dropped names considered racist and offensive to Native Americans the last two years, the Braves chop on — with the support of baseball Commissioner Rob Manfred.
Richard Sneed, principal chief of the Eastern Band of Cherokee Indians, would like to see more outrage about what he says are far bigger issues facing Native Americans, including poverty, unemployment, child abuse, sexual assaults and suicide.
"I'm not offended by somebody waving their arm at a sports game," Sneed told the AP on Tuesday. "I'm just not. If somebody is, that's their prerogative, it's their right. They can be offended. … I don't know very many, maybe one or two, from my tribe who say, 'Yeah, I don't like that.' But at the end of the day, we've got bigger issues to deal with."
Sneed said the problems with crime and poverty remain largely ignored when the national attention has been on team names and the tomahawk chop.
The Braves are following the lead of Florida State and the minor league Spokane Indians in nurturing relationships and developing support from local Native American groups.
The Braves declined to comment on their renewed support of the chop.
"The Native American community is the most important group to decide whether it's appropriate or not and they have been unwaveringly supportive of the Braves," Manfred said.
– BCNN1