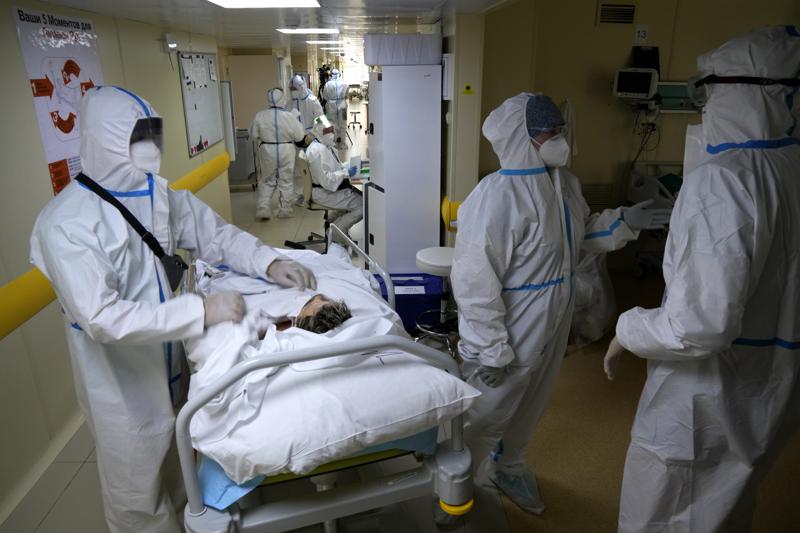 The Russian government coronavirus task force reported 1,028 deaths in the past 24 hours, the highest number since the start of the pandemic. That brought Russia's death toll to 226,353, by far the highest in Europe.
That being the case, President Vladimir Putin on Wednesday ordered most Russians to stay off work for a week starting later this month amid rising COVID-19 infections and deaths, and he strongly urged reluctant citizens to get vaccinated.
The nonworking period should help limit the spread by keeping people out of offices and off crowded public transportation, but Moscow and many other cities haven't curbed access to restaurants, cafes, bars, theaters and gyms.
"Our task today is to protect life and health of our citizens and minimize the consequences of the dangerous infection," Putin said in a video call with top officials. "To achieve that, it's necessary to first of all slow the pace of contagion and mobilize additional reserves of the health care system, which is currently working under a high strain."
Deputy Prime Minister Tatyana Golikova, who leads the task force, emphasized that the nonworking week should imply limiting access to restaurants, theaters and other entertainment venues, adding that regional authorities will be expected to impose restrictions.
In urging Russians to get the shots, Putin said "it's a matter of your life and security and the health of your dear ones. . . I can't understand what's going on," Putin said. "We have a reliable and efficient vaccine. The vaccine really reduces the risks of illness, grave complications and death."
He approved a Cabinet proposal giving two days of paid leave to those getting the shot to help encourage vaccination.
– Ella Breedlove