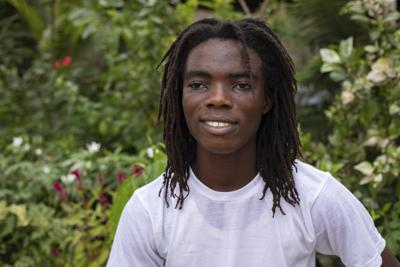 "I manifest my faith through my hair. I assume it to be like telling a Christian not to read the Bible or go to church," 17-year-old Tyrone Iras Marhguy told the Associated Press when he was asked to choose between his faith or his education.
Marhguy is a Rastafarian sporting long hair or what they call dreadlocks. He was accepted into the academically elite Achimota School in Ghana, but he was told by a school official that he would have to cut his hair before enrolling. Cutting his dreadlocks is non-negotiable so he and his family asked the courts to intervene.
Hair is an important part of the Rastafarian faith. Believers grow their hair out naturally in locks in obedience to Biblical commandments. It is a public symbol "that we have made a vow," said Tereo Kwame Marhguy, Tyrone's father.
Although many Rastafarians believe in the Bible, it is a distinct religion guided by unique practices including the adherence to a strict Ital vegetarian diet, the use of cannabis for spiritual purposes and the avoidance of alcohol.
The Achimota School was founded during British colonial rule. Some of its alumni include many of Ghana's social and political elite, including four former presidents, as well as the former presidents of Zimbabwe and Gambia.
The Marhguy's filed a lawsuit against the school and the government. Another Rastafarian student also filed a lawsuit when he was denied access to the school. In a separate incident earlier this year, a Muslim student was prevented by school authorities from fasting during Ramadan, Islam's holiest month.
Rastafarians are a small but visible minority in Ghana and they face discrimination although Ghana, a majority-Christian country, prides itself as democratic and religiously tolerant in a region plagued by interreligious conflicts. Government and faith leaders have signaled their commitment to religious harmony, including recent financial donations by top officials, who are Muslim, to church building projects.
The Marhguys believe they have been divinely chosen to keep fighting the school so no other student has to pick between their faith and their education again.
For the Marhguys, the case highlights the discrimination Rastafarians face in Ghana, where they are a small but visible minority. They hope that with the attention the case has received, local attitudes will become more tolerant.
Tyrone with his uncut hair has been admitted into the school's science program.
– BCNN1