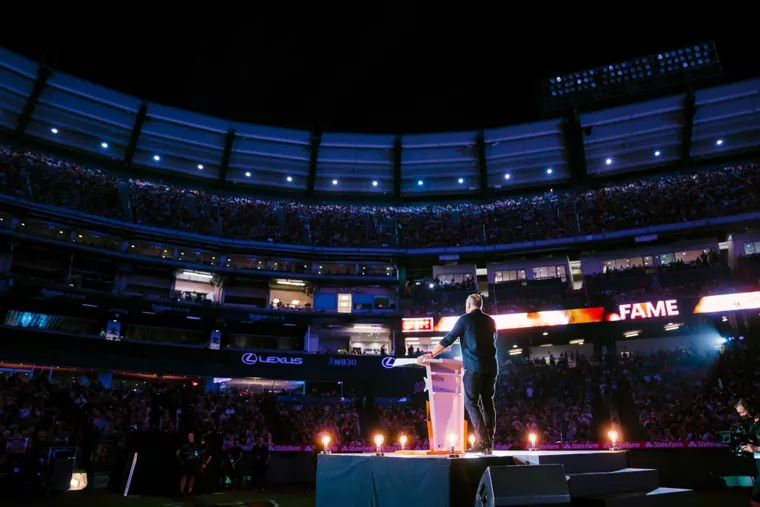 ANAHEIM, Calif. — After taking a gap year due to the COVID-19 pandemic, SoCal Harvest returned to Angel Stadium on Sunday, Oct. 3 with more than 6,000 people making professions of faith.
In lieu of a traditional crusade, Harvest released its cinematic crusade film A Rush of Hope in 2020, which reached over 4 million viewers and saw over 20,000 people respond to the gospel message.
Now, a year later, the outreach event drew over 40,000 people to Angel Stadium and 200,000 online, where they enjoyed performances by Billboard Music Award, Grammy Award and Dove Award-winning artists, For KING & COUNTRY and Phil Wickham, and a gospel presentation by Harvest founder and Pastor Greg Laurie.
More than 600 radio outlets across the nation partnered with Harvest to broadcast the event, and 100 pages across Facebook shared the video livestream. In addition, 170 Southern California churches participated in this year's event, providing mobilization and volunteers.
The evening began with a performance by For KING & COUNTRY and an introduction from Pastor Greg Laurie. Laurie received a warm applause from the crowd after announcing that the footage from the night would be featured in his upcoming film FAME, produced by the Erwin Brothers. Throughout the night, large screens displayed clips from the film, including interviews with rock icon Alice Cooper and former MLB player Darryl Strawberry.
After performances from Phil Wickham and For KING & COUNTRY, Greg Laurie presented a convicting message on the empty promises of fame, emphasizing the fulfillment that can only come from being known by God.
Click here to read more.
Source: SoCal Harvest