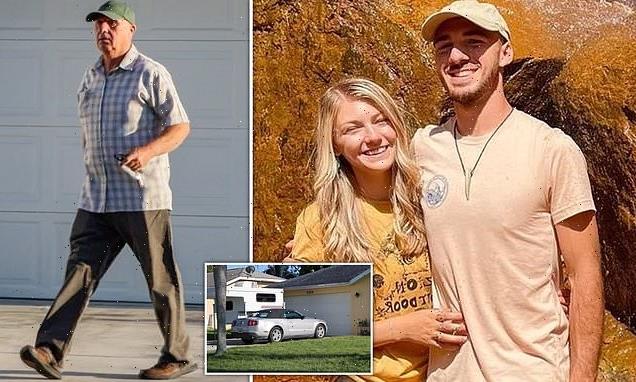 The father of the fugitive Brian Laundrie, the lead person on interest in the disappearance and death of Gabby Petito, has now joined the search for his son after police found the remnants of a 'fresh campsite' at the Carlton Reserve in Florida.
Christopher Laundrie, 62, was spotted leaving his home for the first time this week and arrived at the reserve on Thursday as he finally joined in the hunt for his missing son, who disappeared on September 14, and is said to be hiding somewhere in the vast 24,565 acre reserve in Venice.
Christopher his wife, Roberta, 55, have barely left their home since their son vanished.
The Laundrie patriarch was met by officers from the North Port Police Department before hopping on to a UTV to be driven west toward the Reserve which borders the sprawling Myakka River State Park.
Investigators asked Christopher to guide them along the trails Brian was known to have frequent in the area.
A source close to Laundrie's family told CNN's Chris Cuomo that law enforcement said they 'found fresh traces of a campsite' within the T. Mabry Jr. Memorial Reservation within the Carlton Reserve.
Meanwhile, an attorney for the family said that Laundrie's parents believe 'that is exactly where he is located', Cuomo said.
Christopher will continue to cooperate with law enforcement as agents finish investigating the new campsite.
Click here to read more.
Source: Daily Mail