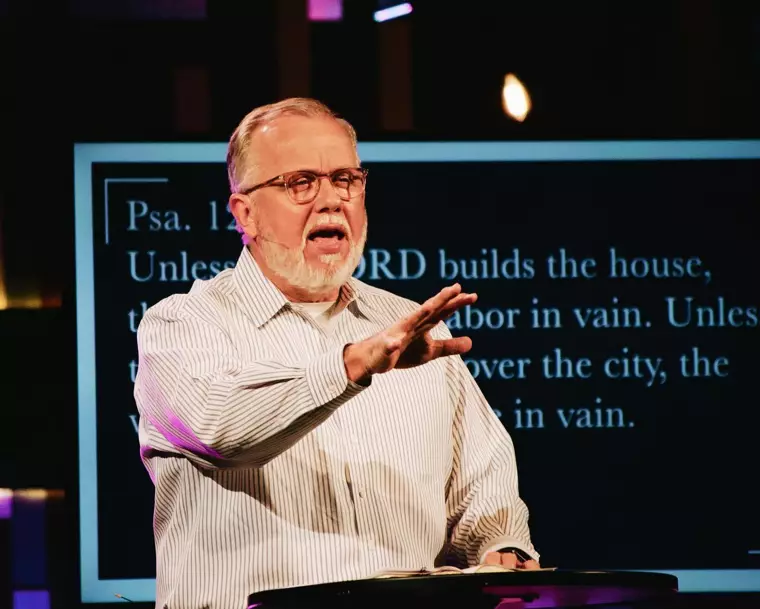 Attendees at the Shrink the Divide racial reconciliation gathering at Redemption Church in Mobile, Ala., Oct. 3 took their seats, perhaps beside those who appeared most familiar. Then they were asked to change.
"The leadership told everybody to move next to someone who doesn't look like them," host pastor Ed Litton, president of the Southern Baptist Convention, told Baptist Press (BP) Oct. 4. "It was natural. If there was awkwardness, and there usually is, that dissipated rapidly. People really enjoyed being together last night."
Litton was one of two keynote speakers at the fourth annual event sponsored by the Pledge Group, a seven-year-old Christian multi-denominational and multiracial group of Mobile-area pastors committed to working for racial reconciliation in Mobile.
Speaking to the diverse audience, Litton referenced Southern Baptists.
"I'll tell you what's hurting us today. Nobody in the Southern Baptist Convention, nobody in my church, and probably nobody in your church would ever want to be called a bigot," Litton said, "but indifference is killing us."
In comments to BP, Litton said Southern Baptists have made tremendous progress toward racial reconciliation in the past 25 years, but said work remains.
"I would say that many of us don't think of ourselves as bigots. We don't think of ourselves as prejudiced, and we disdain that, we hate that terminology, which is not a bad thing," he said. "The problem is, we live indifferent to the suffering or the needs of many of those in our community who really don't share a lot with us, in common with us, so we have to cross those barriers.
"Listen, this is the leading problem to why our baptisms are down, is that we tend to homogenize, we go with people who look like us, people we feel comfortable with. So racial reconciliation is impossible without the gospel."
Pledge Group President Roy Hill, discipleship pastor of DaySpring Baptist Church, said the group has seen progress in Mobile in building cross-cultural relationships and partnerships.
"We have seen a lot of relationships made among pastors," Hill said. "We feel like the emphasis of the Pledge Group is gospel-centered, gospel-driven racial reconciliation. It has to happen in the churches, and we've believed from the beginning that for it to happen in the churches, it needs to happen with the pastors.
Click here to read more.
Source: Biblical Recorder