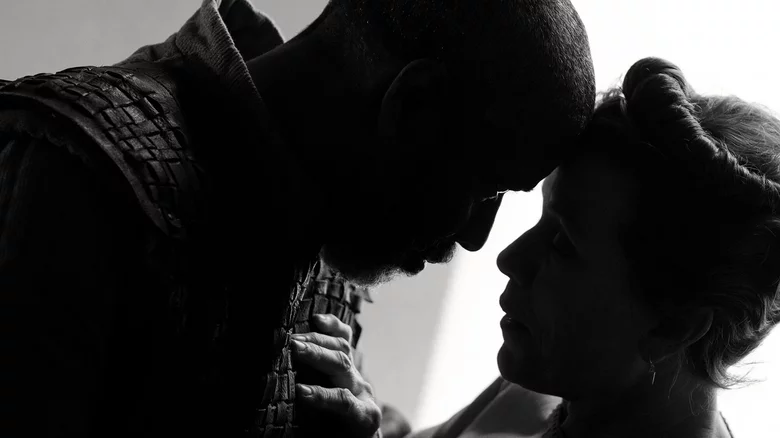 Joel Coen is flying solo with "The Tragedy of Macbeth," a new take on the Shakespeare classic. While Joel Coen almost always works side-by-side with his brother Ethan, "The Tragedy of Macbeth" has him on his own — although that doesn't mean the Coen Brothers have had a falling out. "Ethan just didn't want to make movies anymore," said longtime Coen collaborator Carter Burwell. "Ethan seems very happy doing what he's doing, and I'm not sure what Joel will do after this. They also have a ton of scripts they've written together that are sitting on various shelves. I hope maybe they get back to those."
While I really hope we haven't come to the end of the road for Coen Brothers movies, I'm very excited to see Joel Coen's first solo film. "The Tragedy of Macbeth" stars Frances McDormand and Denzel Washington, and hails from A24. Here's the official synopsis: 
Denzel Washington and Frances McDormand star in Joel Coen's bold and fierce adaptation; a tale of murder, madness, ambition, and wrathful cunning.
The first "The Tragedy of Macbeth" trailer is now online, and I recommend you watch it below. 
The Tragedy of Macbeth Trailer
"Macbeth" has been brought to the screen several times before, but the team-up of Denzel Washington, Frances McDormand, and Joel Coen is just too exciting to overlook. Shot in beautiful black-and-white by Bruno Delbonnel, "The Tragedy of Macbeth" takes a unique approach to the story. For one thing, Macbeth and Lady Macbeth are much older here than they're typically portrayed. "It puts a very specific time pressure on the characters, but also on the storytelling, which I think is the real brilliance of the adaptation that Joel has done," Frances McDormand previously said. "There's a real suspense … The time is running out not only for the characters, but also it propels the storytelling."
Read More: https://www.slashfilm.com/610136/the-tragedy-of-macbeth-trailer-joel-coen-denzel-washington-and-frances-mcdormand-do-shakespeare/?utm_campaign=clip
SOURCE: Slash Film – By CHRIS EVANGELISTA