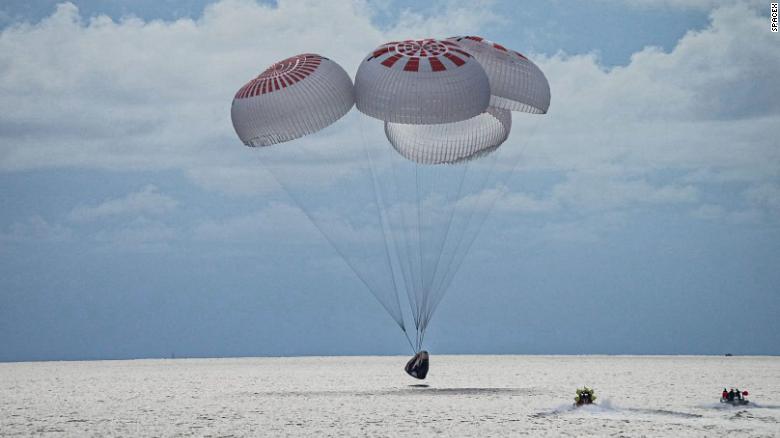 Four people returned to Earth from a three-day extraterrestrial excursion aboard a SpaceX Crew Dragon capsule on Saturday evening, marking the end of the first-ever flight to Earth's orbit flown entirely by tourists or otherwise non-astronauts.
"Thanks so much SpaceX, it was a heck of a ride for us," billionaire and "Inspiration4" mission commander Jared Isaacman could be heard saying over the company's livestream.
The crew were shown watching movies, and occasionally heard responding to SpaceX's mission control inside their fully autonomous spacecraft before it began the nail-biting process of re-entering the Earth's atmosphere. After traveling at more than 17,000 miles per hour, the spacecraft used Earth's own thick blanket of air to slow itself down, with the outside of the craft reaching temperatures up to 3,500º Fahrenheit in the process.
The Crew Dragon capsule, which is designed not to allow temperatures to go past 85º in the cabin, used its heat shield to protect the crew against the intense heat and buildup of plasma as it plunged back toward the ocean
After emerging from the spacecraft, just before being whisked back to Florida by helicopter, the crew were seen smiling and waving to the livestream cameras.
Click here to read more.
SOURCE: CNN, Jackie Wattles