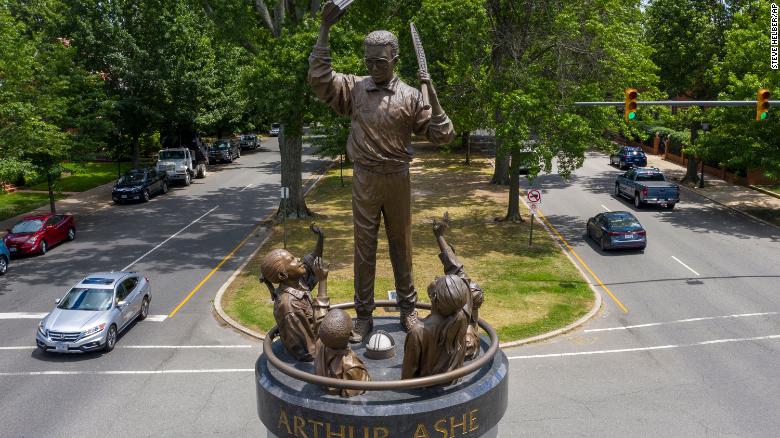 A towering statue of Confederate Gen. Robert E. Lee was removed in Richmond, Virginia, on Wednesday, adding to a growing list of Confederate symbols that have been taken down across the country since George Floyd's death sparked a nationwide reckoning with police brutality and racism.
The removal of Lee — the last Confederate statue to be pulled from Richmond's historic Monument Avenue — makes Black tennis legend Arthur Ashe the lone monument still standing on the street. Ashe was born in Richmond and shattered records in the sport and championed civil rights. A statue honoring him was added to the street in 1996.
Activists, some of whom gathered Wednesday to watch the Lee statue come down, praised the move, saying it was a step toward progress in the movement for racial equality.
The fight to get Confederate monuments removed has gained steam in recent years, with many civil rights activists saying the structures are racist and offensive because they honor Confederate leaders who promoted the enslavement of Black people.
While the calls to remove them grew last summer when protesters vandalized and toppled many Confederate symbols, some battles started after Dylann Roof killed nine Black people in a Charleston, South Carolina, church in 2015 in an effort to "start a race war."
Confederate monument supporters argue that the structures honor history and heritage.
Democratic Gov. Ralph Northam had announced plans to to remove the Lee statue last year, but it was delayed by a court battle with Richmond residents who sued, arguing that an 1890 deed and an 1889 General Assembly joint resolution prohibited the governor from directing the removal of a state monument from state property.
Click here to read more.
SOURCE: CNN, Nicquel Terry Ellis and Chandelis Duster