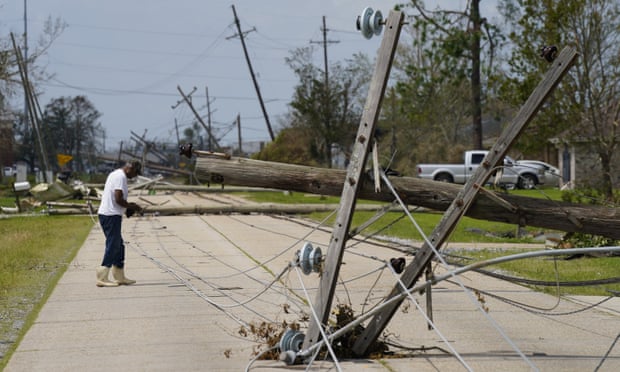 The Louisiana governor, John Bel Edwards, has told those who fled their homes amid the aftermath of Hurricane Ida to not come home until officials say otherwise.
"Many of the life-supporting infrastructure elements are not present, they're not operating right now," Edwards said in a news conference on Tuesday. "So if you have already evacuated, do not return here or elsewhere in south-east Louisiana until the office of emergency preparedness tells you it's ready to receive you."
Edwards traveled with Deanne Criswell, administrator of the Federal Emergency Management Agency (Fema) to survey the damage firsthand. Fema teams arriving Tuesday plan to go house to house in hard-hit neighborhoods to register people for aid, especially in areas with widespread cellphone outages.
More than 1m homes and businesses in Louisiana and Mississippi – including all of New Orleans – were left without power after Ida hit the electric grid on Sunday. In addition to toppling a major transmission tower, the hurricane knocked out thousands of miles of lines and hundreds of substations.
About 25,000 utility workers are trying to restore electricity, which officials say could take weeks. Additionally, about 441,000 people had no water in 17 parishes, as numerous water treatment plants were overwhelmed by flood waters or crippled by power outages. Another 319,000 were under boil-water advisories, according to federal officials.
Click here to read more.
Source: the Guardian