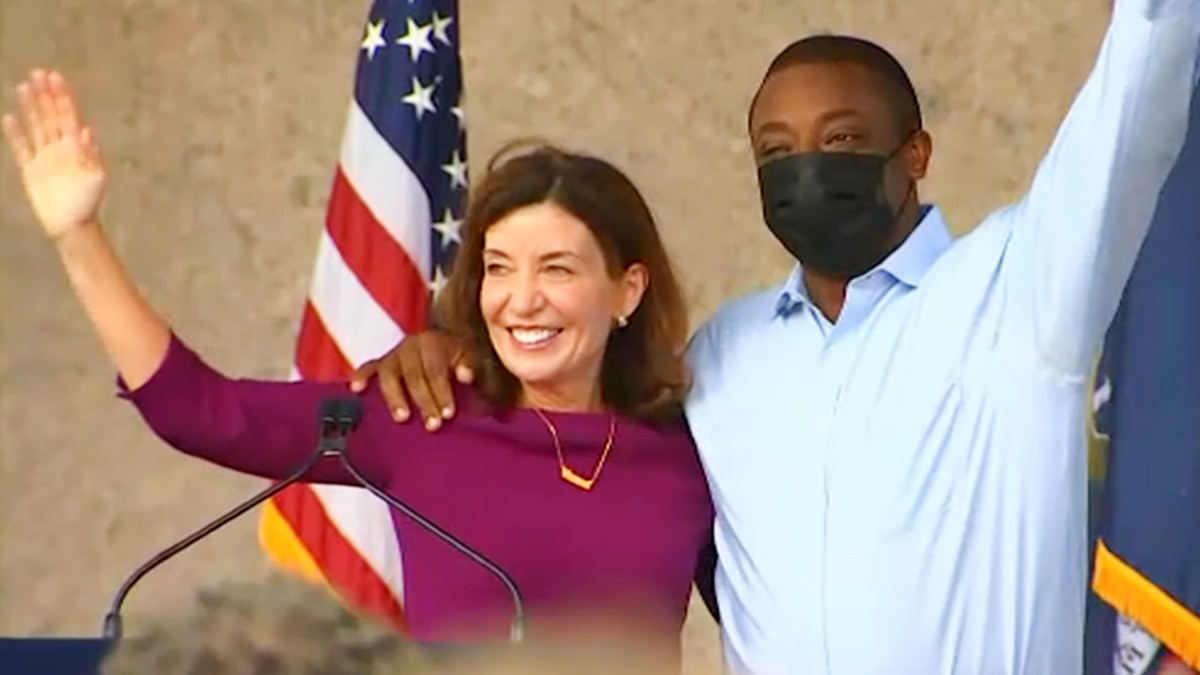 Gov. Kathy Hochul officially introduced state Sen. Brian Benjamin of Harlem as her top lieutenant Thursday, fleshing out another key component of her administration as she seeks to restore New Yorkers' confidence in government following Andrew Cuomo's scandalous resignation and the months of unraveling that preceded it.
The newly sworn-in state commander-in-chief made the announcement with "my partner" Benjamin at the Adam Clayton Powell, Jr. State Office Building. It was her first official appearance in any of the five boroughs as the state's 57th governor.
The Rev. Al Sharpton introduced Hochul, calling her "the kind of governor we need, someone that looks beyond themselves," before the announcement.
An exuberant Benjamin later greeted the cheering crowd, saying, "What a day! 125th Street, Adam Clayton Powell, we are here today!"
https://nbcnewyork.com/portableplayer/?CID=1:2:3242769&videoID=1938159683564&origin=nbcnewyork.com&fullWidth=y
"Gov. Hochul is someone I have a lot of faith in. Iit's not just because we did so many important things together over my four years as being a state senator," Benjamin said. "It's because of the moments we had, the conversations we had, where I was able to see inside her heart. And I knew the kind of person she was before she had power."
"And you can tell a lot about someone before they have that power," he added, "a kind woman, a person of integrity, a person who believes that constituent services matter and believes that it's bigger than us, it's about the people of the state of New York. That is your governor … This is a woman who cares about the entire state."
Hochul indicated from the start she was looking to tap an NYC representative as her lieutenant governor, saying she wants someone who is intimately familiar with the unique challenges facing the city as her right hand as she moves forward on an aggressive rent relief, COVID-focused and culture-changing agenda.
Click here to read more.
SOURCE: NBC New York