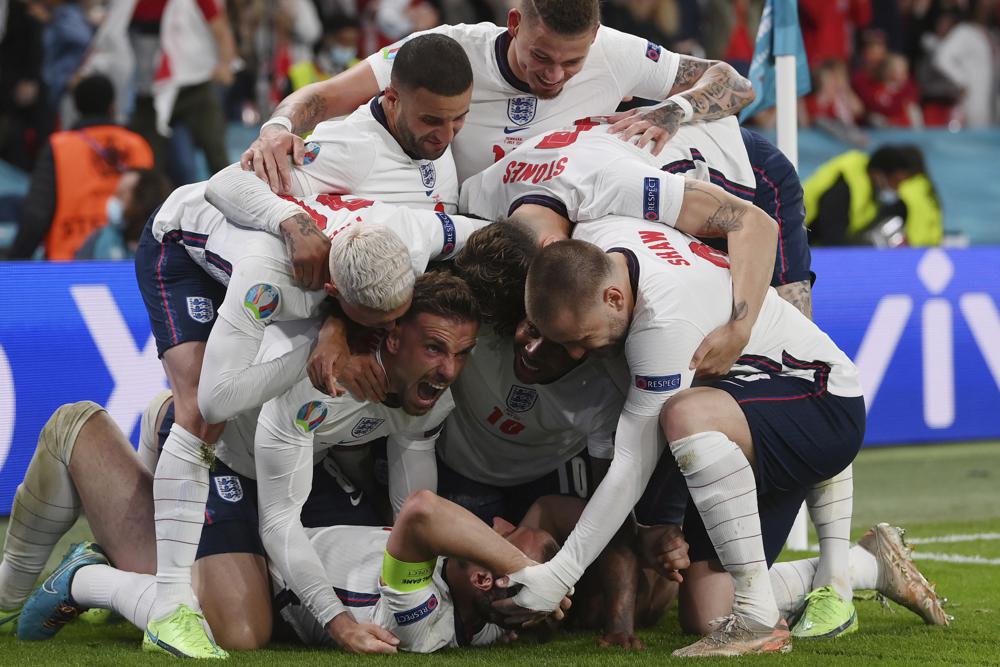 England are now just one game from football glory after they secured a spectacular victory over Denmark at Wembley, with millions of fans now in dreamland after Harry Kane's extra-time penalty-kick secured the Three Lions' place in Sunday's Euro 2020 final against Italy.
England's nerve-racking game against the Danes went into extra time after the two sides drew 1-1 after 90 minutes, with Denmark's Mikkel Damsgaard scoring the opening goal with a long-distance free-kick before England's Raheem Sterling pressured an own goal.
Wembley broke out into a chorus of Neil Diamond's anthem Sweet Caroline after the final whistle went, with 60,000 spectators including Prince William, Prime Minister Boris Johnson and his wife Carrie, and 30 million people in homes and pubs across the country celebrating.
Last night's victory is an historic achievement for England as it seals its place in Sunday's final against Italy – the most important football game for the Three Lions in 25 years, and the first major tournament final the side have managed to reach since the 1966 World Cup.
England supporters in the official fan zone in London's Trafalgar Square jumped with joy as the referee blew the full-time whistle. Supporters applauded and chanted every move from the Three Lions, before descending into singing It's Coming Home as the match ended.
Fans are shirtless and throwing beers into the air, and have grouped together at the London landmark with chants of 'Southgate you're the one' and 'Don't take me home' ringing out. Stewards can be seen trying to move the fans on, but they continue to sing loudly in the fan zone.
People were on the ground, while others could be seen with tears in their eyes. Vic Richards, 22, from Croydon, south London, said: 'I'm still trying to compute what happened, I've never seen England make a final.
'It's beautiful, it's unbelievable, I love this country, the players gave it their all. This is an historic occasion, we may never see this again- now we can start to believe.'
Click here to read more.
SOURCE: Daily Mail