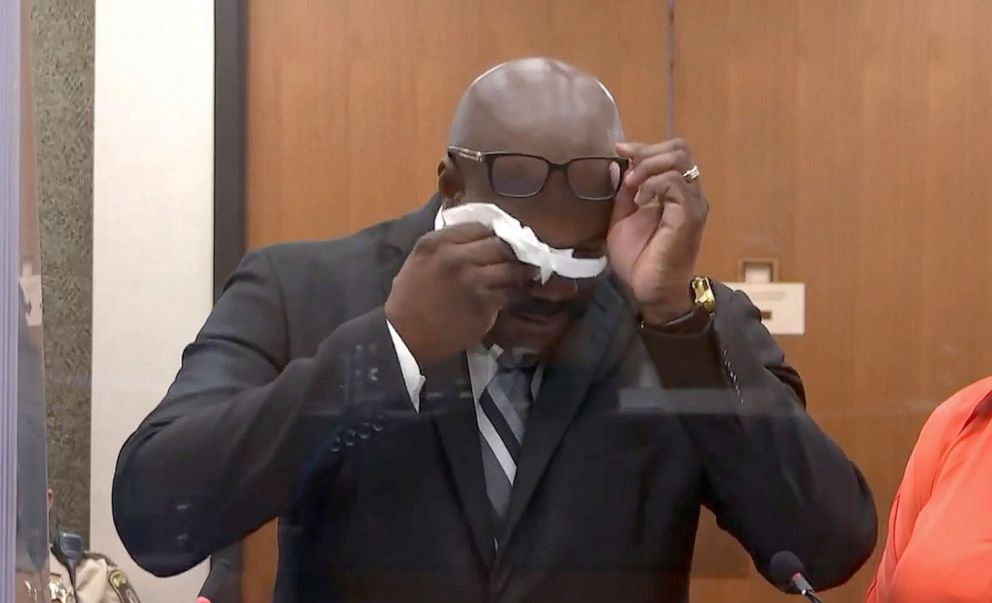 Before former Minneapolis police officer Derek Chauvin was sentenced to 22 1/2 years for the murder of George Floyd, members of George Floyd's family gave emotional statements asking for the maximum sentence.
Floyd's 7-year-old daughter Gianna shared a prerecorded video message at the hearing.
When asked, "Do you wish he was still here with us?" she replied, "He is."
When asked what she would say to her father if she could speak to him right now, Gianna said, "I miss you and I love him."
George Floyd's two brothers also provided victim impact statements before the sentence was announced.
Philonise Floyd had to wipe his eyes before addressing the court. He asked Judge Peter Cahill to give Chauvin the maximum sentence — 40 years — without the possibility for parole.
"My family and I have been given a life sentence. We will never be able to get George back," he said. "Daddies are a daughter's first love. He'll never be able to walk Gianna down the aisle at her wedding, attend those magical moments of her life."
Terrence Floyd, struggling to speak, said his family is now "part of a fraternity of families and it's not one of those fraternities that you enjoy." He asked Chauvin, "Why?"
"I wanted to know from the man himself, why?" he said. "What were you thinking? What was going through your head when you had your knee on my brother's neck? When you knew that he posed no threat anymore? He was handcuffed, why you didn't at least get up?"
Terrence Floyd recounted a long conversation he had with his brother a month before George Floyd was killed on May 25, 2020.
Click here to read more.
SOURCE: ABC News, Meredith Deliso