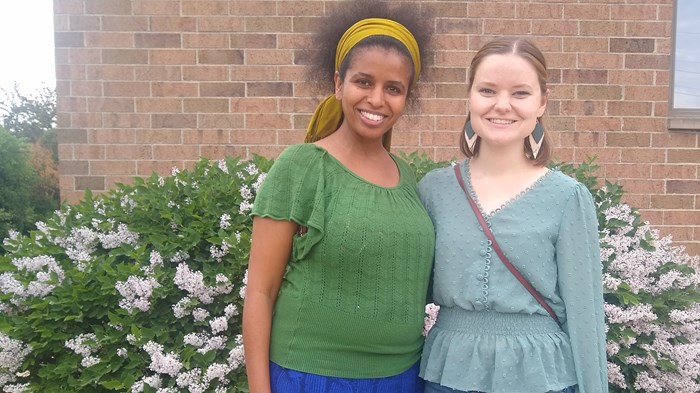 Katie Fuhs is pursuing her M.A. in Humanitarian and Disaster Leadership at Wheaton College. She received her BSW from the University of Illinois at Urbana-Champaign. Katie is passionate about advocacy, biblical justice, and empowering women.
---
Many Americans are asking, "Should the U.S. welcome refugees?" For Christians, this should be of little question. The Bible clearly calls us to care for the foreigner, the oppressed, the widow, and the orphan. God also calls us to love one another and celebrate diversity, as one unified body of Christ. The U.S. Church can play a significant role in advocating for our refugee brothers and sisters, and refugees can strengthen our churches.
However, according to Pew Research Data, a staggering 68% of white evangelical Protestants believe the U.S. does not have the responsibility to accept refugees. Data also shows that 25.4% of all U.S. citizens identify as Evangelical Protestant Christians. The Evangelical Church needs refugees in order to develop a richer understanding of scripture, learn how to suffer well, and be challenged to set aside presumptions and lean into our biblical callings as advocates for the oppressed.
The Evangelical Church needs to glean from the biblical wisdom and experiences of their refugee brothers and sisters. In Fiscal 2019, 79% of refugees who resettled in the U.S. were Christians. Refugees who are fleeing war, famine, violence, and persecution will read the Bible through a different lens. They will offer unique perspectives as the Church studies Exodus, Ruth, or the Parable of the Good Samaritan. They will help us connect more deeply to the humanity of Jesus, a Middle Eastern Refugee, when we are confronted with the suffering, violence, instability, and rejection He experienced on Earth.
Mehret was born in Tigray, Ethiopia. She was only nine months old when her family had to flee to Sudan. They lived in a refugee camp for about four years before World Relief helped them resettle in Wheaton, IL. Mehret's family was blessed by an abundance of support from both World Relief, and supporting churches and families in the Wheaton area. Today, Mehret is a teacher and works with refugees from all over the world. In an interview, she shared her thoughts on the Church's relationship with refugees as well as aspects of her own story.
When asking Mehret about her thoughts on welcoming refugees into the Evangelical Church, she responds by saying, "Jesus was a refugee. When we open our hearts to people of this status it is our Savior-Jesus who we honor: the one who saved us, the one who called us by name, the who loves us and who knows us. He himself was a refugee."
Click here to read more.
Source: Christianity Today