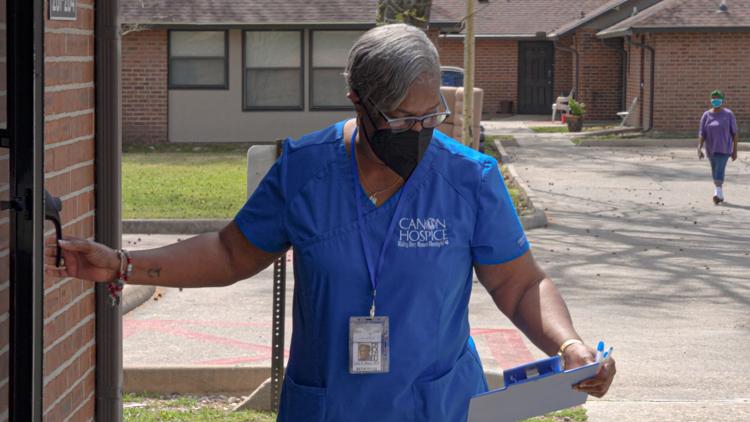 Carla Brown often prays as she administers the COVID vaccine, asking God to help her find more people who want the shot so she doesn't waste her precious supply.
"I say, 'Father, give me another arm,'" the hospice nurse said. "And I have not wasted one dose."
Brown, who travels through Scotlandville and surrounding areas in her red Toyota Scion to get the life-saving vaccine to the people who need it most, works full-time at Canon Hospice, a palliative care agency in the city, while continuing to inoculate people in her free time.
Her story began a year ago, at the age of 62, when she unknowingly brought the coronavirus home to her family.
Brown, who worked as a nurse at a psychiatric hospital at the time, watched in horror as her husband, father and brother fell ill with the virus in the early months of the pandemic. All three required hospitalization.
Her father and brother made it home.
Her husband of 21 years — who years earlier survived a gunshot wound to the head and two cancer diagnoses — did not.
David Brown died in July 2020 after an extensive hospital stay. His wife was unable to see him in his final moments because of COVID restrictions.
"A lot of us front-liners brought it home," she recounted. "After my husband died, and me knowing I was the cause of his death, I felt I had to do something and not let his death be in vain."
Click here to read more.
SOURCE: The Advocate, Jacqueline DeRobertis