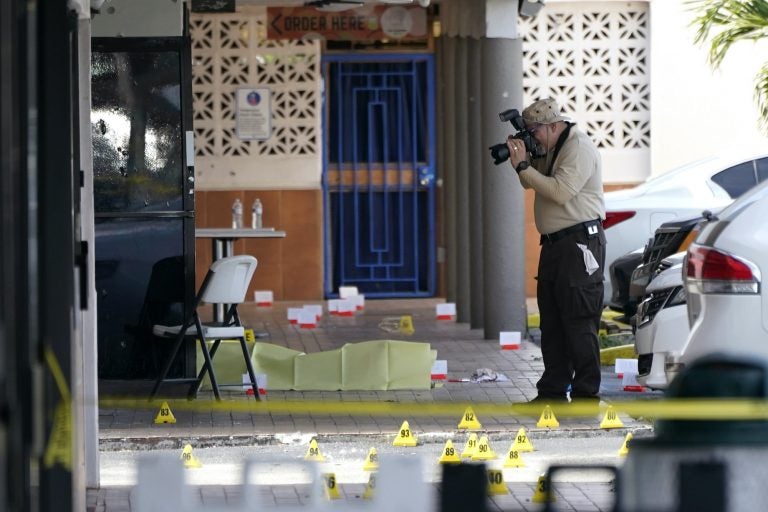 At least 22 people were shot — two who were killed instantly — early Sunday when three assailants unleashed a barrage of gunfire on a crowd standing outside a birthday party concert at a rented banquet hall in suburban Miami, police said.
The shooters, armed with high-powered rifles and handguns, arrived and fled in an SUV that police were still searching for Sunday evening. The gunmen waited outside the party for about 40 minutes before opening fire just as revelers were leaving the celebration, Miami-Dade Police Director Alfredo "Freddy" Ramirez told ABC News on Sunday afternoon.
About 100 shell casings were collected at the scene by investigators, Ramirez said, adding that some party-goers under attack returned fire.
The motive for what Ramirez described as a "cowardly act" remains under investigation.
Three of the wounded victims are in critical condition and two of them are on life support, Ramirez said.
No arrests have been made in what was the 17th mass shooting in the United States in May alone, and the second to rock the Miami area since the start of Memorial Day weekend, according to the Gun Violence Archive, an online website that tracks shootings across the country.
On Friday, one person was killed and six were injured in a drive-by shooting in Miami's Wynwood arts district. That came two days after nine people were killed in a workplace shooting in San Jose, California, in which the suspect died by suicide.
Click here to read more.
SOURCE: ABC News, Jon Haworth, Bill Hutchinson, and Joshua Hoyos