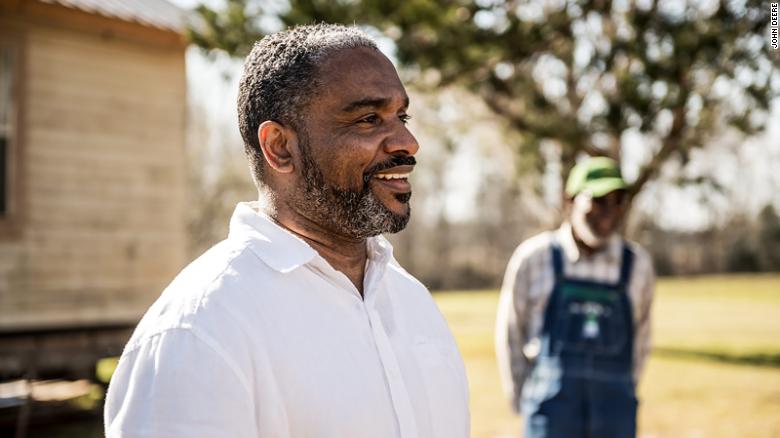 It's been nine years since Michael Robinson of Columbus, Ohio, nearly lost a major part of his family's legacy. He's still fighting to regain full control of it.
In 2012, the 57-year-old married father of four, who is Black, found out someone he'd never met named James E. Deshler II was suing his family members to force them to sell their portion of the 127 acres of Barlow Bend, Alabama, farmland that they'd inherited from Robinson's late grandfather, Joe Ely.
The local county auditor's website determined last year that the land is worth more than $212,000. The Deshler family and its Thomasville, Alabama, attorney J. Glen Padgett did not respond to a request for comment.
"I couldn't understand it," Robinson told CNN Business. "How can someone force us to sell land that's not for sale?"
The issue was one of heirs' property, a legal term for land owned by two or more people, typically after they inherit it from a relative who didn't have a will.
Robinson said his grandfather spent $2,500 to acquire his farmland in 1941 through a US Department of Agriculture program. Joe Ely didn't have a will when he died in 1959, so control of his land was automatically divided between his 15 children.
What Robinson didn't know nine years ago was that the Deshler family had already purchased 1/15 of Ely's land from Robinson's distant cousins, Maxie Ely Jr. and Sharita Faye Ely, who Robinson said sold their share of the land for a fraction of its value without knowing how their actions could affect the rest of the family.
Deshler then attempted to force Robinson's family to sell the remaining shares of their land through a now-defunct Alabama law that existed in several southern states. That law allowed anyone who acquired one or more shares of land owned by multiple heirs to sue to force the sale of the entire property.
"The law was put in place to stop land from becoming so fractionalized each time a generation passed," Robinson said. "I didn't understand that was even an option, that someone could sneakily buy land and then force you to sell all of the land."
Click here to read more.
SOURCE: CNN, Chauncey Alcorn