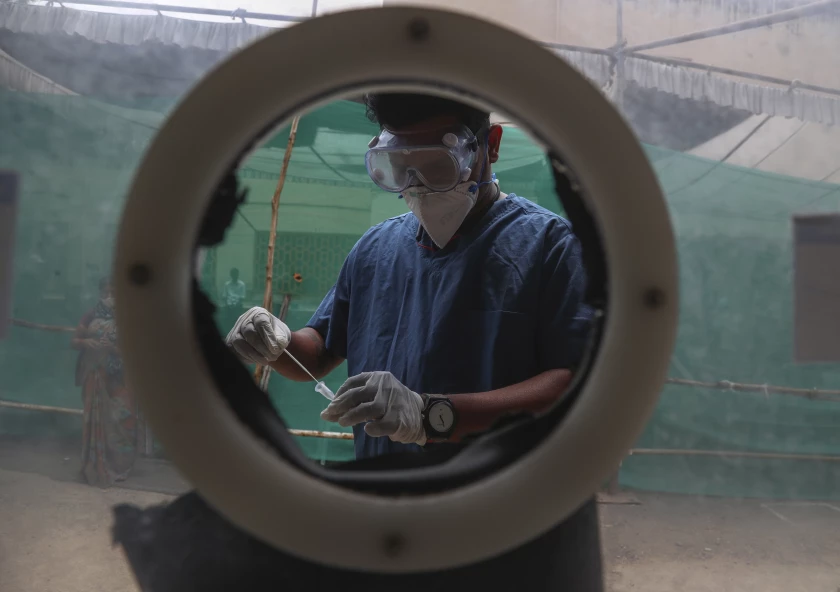 Scientists race to study worrisome variant of the coronavirus showing up in India that may spread more rapidly. Viruses mutate constantly, and the surge in infections in India has resulted in more opportunities for new versions to emerge. The World Health Organization deems this new variant a "variant of concern."
Ravindra Gupta, a professor of clinical microbiology at the University of Cambridge, said: "It has all the hallmarks of the virus that we should be worried about."
This new variant was first detected in the coastal Maharashtra state last year. It has now been found in samples in 19 of the 27 states surveyed. Experts are blaming the spread on the government's decisions to not put a stop on religious gatherings and crowded election rallies.
Health officials and researchers into this mutated variant are face with various questions and concerns: Is the variant capable of infecting those who previously had COVID-19, and if so, will this result in severe disease? How much of this virus is circulating? More targeted sequencing needs to be done.
In the area of targeted sequencing, India's has been haphazard. The country uploads 0.49 sequences per 1,000 cases to GISAID, a global data sharing effort. The U.S. uploads about 10 in 1,000. The U.K. uploads about 82 per 1,000 cases. It was difficult for India to carry out its sequencing as all materials for sequencing were imported, resulting in more paperwork.
Dr. Shahid Jameel a virologist said India has sequenced around 20,000 samples, but only 15,000 were publicly reported because some were missing vital data. Until late last month, he said a third of the samples sent by states were unusable.
Indian scientists say their work has been hindered by bureaucratic obstacles and the government's reluctance to share vital data. India is sequencing around 1% of its total cases, and not all of the results are uploaded to the global database of coronavirus genomes.
– Ella Breedlove