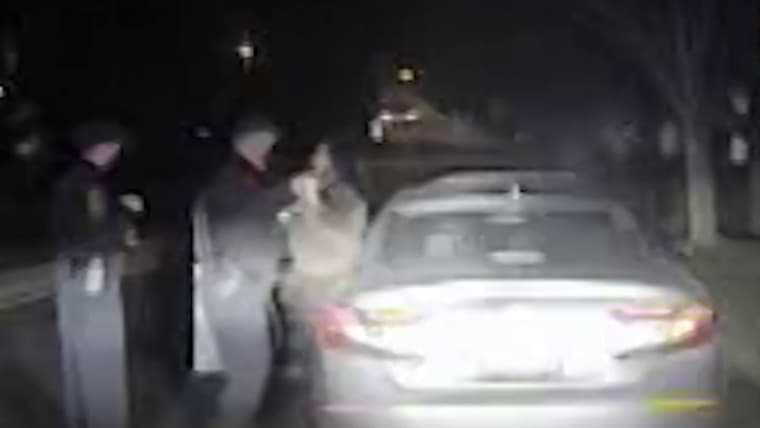 Dinner couldn't have gone better for Juanisha Brooks who was out to celebrate her sister's 37th birthday.
They caught up on life over appetizers at a restaurant near the National Harbor in Maryland.
In the early morning of March 6, Brooks was headed home when she noticed emergency lights trailing her on I-495.
Believing it was an ambulance in distress, she pulled over on the shoulder of a highway exit ramp close to her home in Alexandria, Virginia, about 15 minutes from where she had eaten dinner, Brooks said in an interview Tuesday.
It was sometime past 2 a.m.
Virginia State Trooper Robert G. Hindenlang was instead pulling her over, only she said she wasn't sure why despite asking him.
A state prosecutor later concluded there was no basis for the traffic stop.
Yet, Brooks found herself being pulled over in the dark and cold.
"To my surprise, it immediately escalated," said Brooks, 34, a Black woman who works for the Defense Department.
Hindenlang asked her multiple times to exit her vehicle without initially providing an explanation, dashcam video shows.
"What made you pull me over?" Brooks asked.
"Can you step outside and I'll show you," Hindenlang responded, according to the dashcam video.
When she didn't get out of the car, Hindenlang, who has been a trooper for 24 years, unlocked Brooks' door and dragged her out of the car. He then forced her against the vehicle and handcuffed her.
Brooks tried reaching for her cellphone, but it fell out of her hands during the tussle.
"That was my lifeline to record what was happening. When that dropped, I really became fearful for my life and truly thought I was going to die," she said. "I felt so helpless. All I could think about was Sandra Bland and Philando Castile."
Click here to read more.
SOURCE: NBC News, Deon J. Hampton and Janelle Griffith