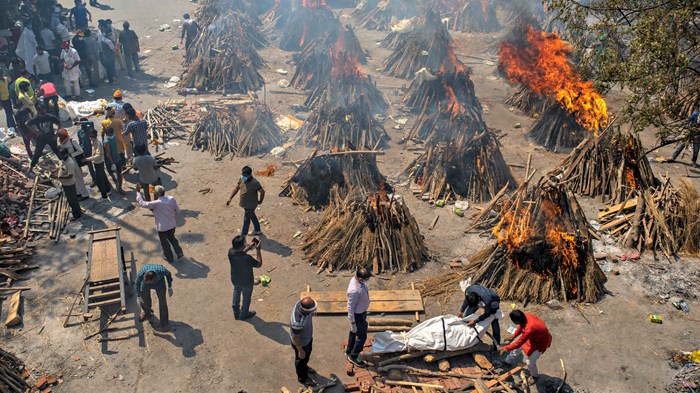 With life-saving oxygen in short supply, families are left on their own to ferry people sick with COVID-19 from hospital to hospital in search of treatment as India is engulfed in a devastating surge of infections. Too often, their efforts end in mourning.
On social media and in television footage, desperate relatives plead for oxygen outside hospitals or weep in the street for loved ones who died waiting for treatment.
India has been setting global daily records of new coronavirus infections, spurred by an insidious new variant that emerged here.
On Friday, the number of new confirmed cases breached 400,000 for the third time since the devastating surge began last month. The 414,188 new cases pushed India's official tally to more than 21.4 million, behind only the United States.
The Health Ministry also reported 3,915 new deaths on Friday, bringing the confirmed total over 234,000 (behind only the US and Brazil). Health experts believe both figures are an undercount.
Leaders of Christian churches and ministries in India have been overwhelmed by cases and deaths among their staff and congregants amid the unavailability of treatment. In response, today was jointly declared a day of prayer and fasting by the leaders of the Evangelical Fellowship of India (EFI), the National Council of Churches in India (NCCI), and the Catholic Bishops' Conference of India (CBCI).
The current crisis is one of the darkest times in the history of the nation, according to Prabhu Singh, principal of the South Asia Institute of Advanced Christian Studies (SAIACS), an evangelical research institution in Bengaluru.
"One of the heartbreaking results of this intense second wave in the country is the tragic loss of senior leaders of Christian organizations and seminaries as well as church pastors and lay leaders," he told CT. "The other leaders are also experiencing severe strain as they struggle to cope with the impact of the pandemic."
"We estimate 350 to 400 pastors, evangelists, and bishops have lost their lives—and that is a conservative figure," said Vijayesh Lal, general secretary of EFI, citing tallies in Maharashtra, Gujarat, Delhi, and other states.
"The church has lost a lot of leadership," he told CT. "And when you consider that it takes time and effort to build up leadership, I believe we are headed for a leadership vacuum."
"The leadership crisis has already hit the church in India," said Richard Howell, principal of Caleb Institute, a seminary in Haryana, and former general secretary of EFI.
Click here to read more.
Source: Christianity Today