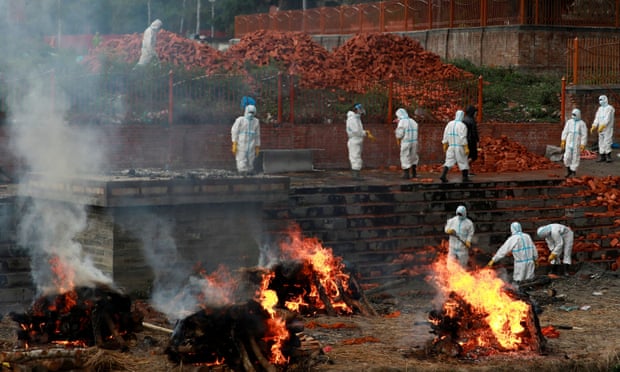 Nepal is struggling to contain an explosion in Covid-19 cases, as fears grow that the situation in the Himalayan country may be as bad, if not worse, than in neighbouring India, with which it shares a long and porous border.
Following warnings by health officials earlier this week that the country was on the brink of losing control of its outbreak, Nepal has appealed for urgent international help.
As the country reported its highest daily number of new infections – 9,070 – the prime minister, KP Sharma Oli, who has been criticised for his handling of the crisis, asked the army to help manage emergency facilities to take pressure off the health system.
With vaccines running short and hospitals overwhelmed, serious outbreaks have hit both the capital, Kathmandu, and the south-west and west of the country. The national positivity rate – the percentage of tests that come back positive – is being reported at a staggering 47%. Rates are even higher in some locations.
Earlier this week Oli appealed to the international community for vaccines as officials warned that those who had already received a first dose of the AstraZeneca jab were in urgent need of second shots.
The government's haphazard vaccination campaign, with people queuing for hours in the capital, has been blamed for spreading the disease.
Amid new lockdowns and the cancellation of most international flights, travellers told of checkpoints in Kathmandu en route to the airport.
Click here to read more.
SOURCE: The Guardian, Peter Beaumont