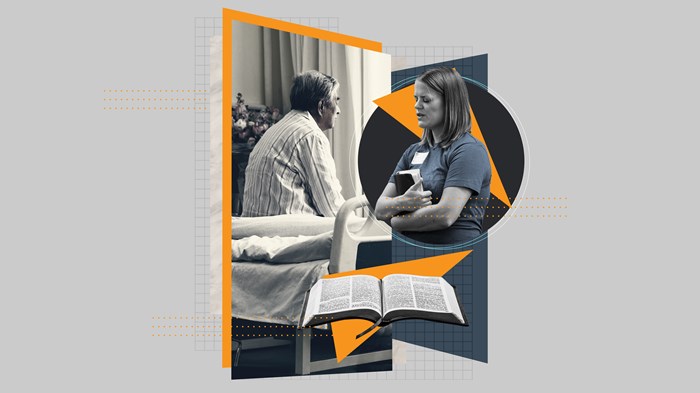 My first deathbed visit as a pastor was with a person I'd never met. On the drive over, I wondered what I would say and if I'd be able to keep my emotions in check. But, primarily, I felt grateful that I would not be ministering on my own. I was apprenticing an older priest at the time; she was an experienced pastor and I a self-conscious twenty-something. She'd planned to visit a dying woman in a nursing home that afternoon, and she invited me to join her.
At the woman's bedside, we prayed a short liturgy for the time of death from The Book of Common Prayer. My mentor graciously delegated a few of the prayers and readings to me, but my main job in being there was to watch and learn. Neither of us knew the woman who was approaching her last breaths—we came at the request of her daughters—but my mentor greeted her warmly and confidently. I saw how she gently held and anointed the frail, failing hands. I noticed her fight back tears.
It was a fairly unsensational visit. The woman and her family were our only congregation. But I left deeply humbled that we were invited into such a sacred space.
Competencies of the Call
Pastors, for better or worse, have a backstage pass to others' most profound experiences. We do not trade in worldly power or influence, but we are given the holy privilege of shepherding people through the thresholds of life. In the musical Hamilton, a young politician dreams of being "in the room where it happens." Ours is a different room: the room where birth, death, marriage, divorce, crisis, illness, and bereavement happen.
This calling necessarily shapes our competencies. Pastors, especially young pastors like me, need to learn much more than how to preach a sermon or manage volunteers. This is part of what makes apprenticeship so precious; watching my mentor care for a dying woman gave me a reference for my own future. Some of my most formative experiences in ministry have been with older priests who allowed me to tag along with them.
But the power of pastoral ministry lies beyond any skill set. Specifically, the ministry of presence—of being in the room where it happens—is more about being there than about doing anything. The pastor's presence speaks its own word. Our willingness to show up is a living sermon, the love of God made tangible in the places people most need it and often least expect it—the hospital room, the courtroom, the morgue. In the language of my Anglican tradition, pastoral presence could be described as sacramental: something that signifies a greater reality.
Click here to read more.
Source: Christianity Today