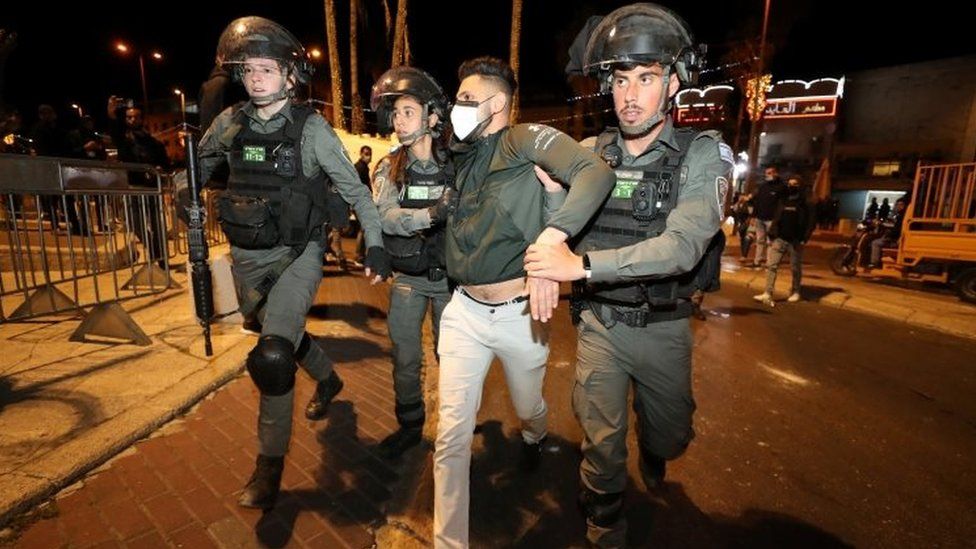 Scores of people have been injured in clashes in East Jerusalem between far-right Jewish activists, Palestinians and Israeli police.
The violence erupted as police tried to keep Palestinians and ultra-nationalist Jewish protesters apart.
It follows nights of confrontations in the Israeli-occupied sector amid rising nationalist and religious tensions.
East Jerusalem has long been a flashpoint, with an uneasy coexistence there between Jews and Arabs.
Israel has occupied East Jerusalem since the 1967 Middle East war and considers the entire city its capital, though this is not recognised by the vast majority of the international community. Palestinians claim East Jerusalem as the future capital of a hoped-for independent state.
The worst fighting in days broke out on Thursday night after hundreds of Jewish extremists from the ultra-nationalist Lehava group marched towards the Damascus Gate entrance of Jerusalem's Old City – where large numbers of Palestinians had gathered – chanting "Death to Arabs".
Stones and bottles were thrown between the two sides, and police used stun grenades, tear gas and water cannon to try to disperse the crowds.
Click here to read more.
SOURCE: BBC