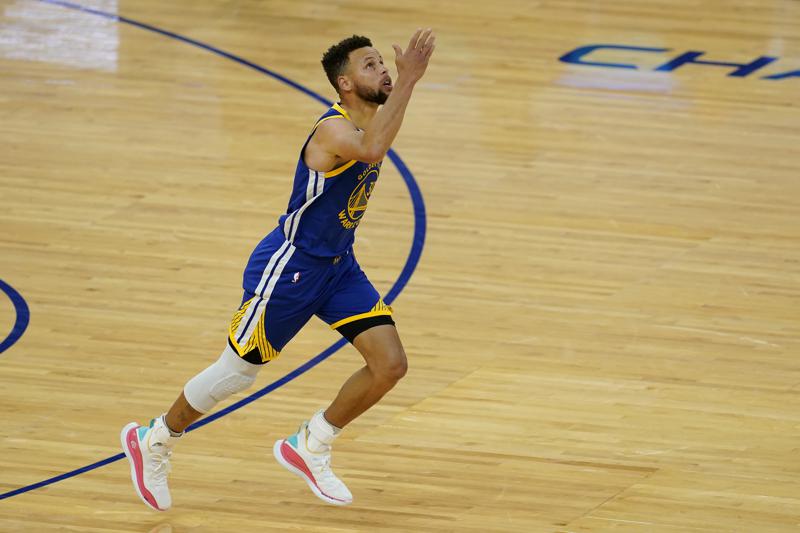 Stephen Curry became the all-time points leader in Golden State Warriors history on Monday night, passing Wilt Chamberlain's previous record of 17,783. It's a feat that even Curry himself had a hard time wrapping his head around because of Chamberlain's historical significance to the game.
"It's crazy," Curry said after scoring 53 points in Monday's 116-107 win over the Denver Nuggets. "Anytime you hear his name, it's kind of daunting because you know his records are so hard to — some of them are even impossible to eclipse, I think. You understand how great of a player he was.
"I can't remember how many games he played as a Warrior, and how many I've played, but to be anywhere near him in any record book or now be on top, it's surreal, and it's wild. Because if you grow up in the game of basketball and you hear his name, you know it's something extremely special, no matter what it is."
Curry's record-setting basket came on a driving layup with 1:40 left in the first quarter. Needing just 19 points to surpass Chamberlain, Curry finished with 21 in the first quarter, receiving congratulations from teammates and coaches at the end of the quarter, including a lengthy embrace with longtime teammate Draymond Green.
"We all figured he'd find a way to get 19 points tonight," Warriors coach Steve Kerr said with a chuckle. "But maybe not in the first quarter."
Greatness. pic.twitter.com/Pb8nqWZtFR

— Golden State Warriors (@warriors) April 13, 2021
https://platform.twitter.com/widgets.js
Curry finished the night 14-for-24 from the field, 10-for-18 from beyond the arc and 15-for-16 from the free throw line, delivering the type of dominating offensive performance that has defined his career. Curry became the seventh player in NBA history to record multiple seasons with three or more 50-point games — the ninth time in his career he has scored 50 or more points.
Monday also marked the 18th time in Curry's career that he has made 10 or more 3-pointers in a game.
Before Curry's postgame video conference began, Warriors Hall of Famer Chris Mullin delivered an emotional message to Curry about how much he has meant to the organization and thanking Curry for the way he has carried himself.
"I've watched you from day one, and it's just been a pleasure and a joy to watch you. So congratulations, of course, but more importantly, I want to thank you for the way you've done it … you bring so much joy and happiness to the world, and it's so appreciated," Mullin said. "So I just want to say thank you for that … the way you carry yourself on and off the court, just a true role model for young and old. So really just want to say congratulations and thank you for being you, Steph Curry."
Curry, who sat in front of a video screen displaying "17,818" for the number of points he has scored as a Warrior, was clearly touched.
Click here to read more.
SOURCE: ESPN, Nick Friedell