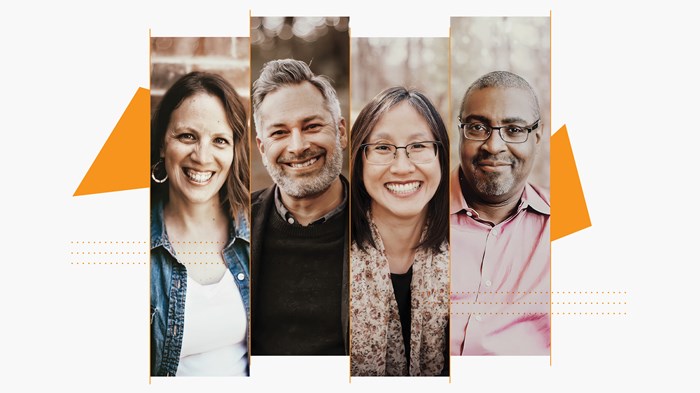 Pastoral care sits at the center of our vocation as ministers. In addition to preaching and leading worship, celebrating the sacraments, and shepherding souls, we care for the sick, and we counsel the anxious, the fearful, and the grieving. But as pastors, to honor and revere and care for others is to be affected by the care that we give. We gathered four practitioners of pastoral care to reflect on the inherent challenges of this aspect of ministry.
Lindsay Rich is pastor of congregational care and faith development at SouthPark Church in Charlotte, North Carolina.
Ronnie Martin is lead pastor of Substance Church in Ashland, Ohio, and cohost of CT's The Art of Pastoring podcast with Jared Wilson.
Toni Kim is a former pastor who now serves as a spiritual director, nonprofit administrator, and board member. She lives in Charlottesville, Virginia.
Derek McNeil is a psychologist and president of The Seattle School of Theology and Psychology.
CT's editor in chief Daniel Harrell, a former pastor, moderated this discussion.
This article has been edited for clarity and length. You can listen to the full conversation at this link.
I've always held that the best pastoral care does not aim to fix a crisis so much as to frame a crisis within the cross of Jesus. In your experience, how can we help the people we are caring for see God in what is happening in their lives?
Martin: If you're somebody who preaches the Cross, it confronts some of the complexities of our comforts. And it confronts those complexities with the sobriety of our suffering Savior. We all face fragility. "In this world you will have trouble," Jesus said. The Cross frames our crises by adjusting our expectations. How will I face the inevitable without blaming God, without seeing him as unkind, or without just believing I deserve better and I'm entitled to something beyond what Jesus even experienced?
Kim: We serve a God who suffered. I do frame crises within the cross of Jesus, but I also frame the cross of Jesus within the larger story of redemption and resurrection. Isaiah 53 says of the prophesied suffering servant, "He will see the light of life and be satisfied." Tragedy and trauma are part of Jesus' story, but just as his suffering would redeem, so also our suffering can be redeeming.
So one of the things I try to do is to dignify the depth of a crisis but also to frame it as only one part of who that person is. Trauma or tragedy is an important part of a person's story, but not the defining part. We are defined, ultimately, as beloved by God and, specifically, beloved by a God whose own suffering was just a part of his story.
One of the strangest aspects of the gospel is the Cross as the supreme expression of God's love. It's rare that we see suffering in that vein, but this is exactly what the gospel calls us into.
Rich: Yes. The churches where I've served have predominantly been white, evangelical, and younger where many have not had significant experiences of suffering. Their theology tends toward a triumphant Jesus, one formed by some of the popular songs like Elevation Worship's "See a Victory"—as if God knows only how to triumph. But where does that leave you when you have a child with a chronic illness or your business is going under and your marriage is struggling? For me, pastoral care often means helping people develop a more robust theology of suffering. Platitudes don't cut it when life is falling apart. We need something with grit. We need to know our hope doesn't wash out with the rain. Pastoral care is giving people permission and encouraging them to wrestle with some of life's bigger questions, sometimes for the first time as they deal with a major trauma or loss.
Click here to read more.
Source: Christianity Today