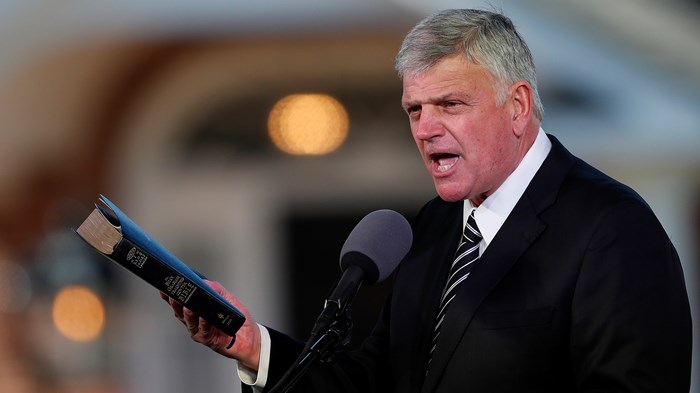 Franklin Graham's British bus signs seemed innocuous. They said, "Lancashire Festival of Hope with Franklin Graham—Time for Hope."
But the message, the messenger, and his history of controversial statements about homosexuality sent the seaside resort town of Blackpool into turmoil in 2018, as elected officials and administrators rushed to find a way to remove the advertisements from public transportation.
"Clearly this chap cannot be allowed a stage to promote this venom," wrote one city official an email to the council. Another called the evangelist and the president of Samaritan's Purse a "bile spewing preacher." A third official didn't know who Graham was, but looked him up on the internet and said she was "a bit shocked" at things Graham had said about LGBT people on Fox News.
The town removed the Festival of Hope signs just 24 hours after they went up on city buses, citing "heightened tension" and complaints from local residents.
Now, more than two years later, a British court has ruled that was an act of religious discrimination. Graham's name and record of controversial statements might be offensive to some in Blackpool, according to Judge Claire Evans, but the town was wrong to censor him. The bus sign was protected by the British Equality Act of 2010 and the European Convention on Human Rights.
"All religions and beliefs are characteristics protected by law," Evans wrote in a 35-page decision handed down last week. "The domestic courts and the European Court of Human Rights have consistently affirmed that a pluralistic tolerant society allows for the expression of many different and sometimes diametrically opposed beliefs."
According to the judge, Blackpool exhibited "a wholesale disregard for the right to freedom of expression" and "gave preference to the rights and opinions of one part of the community," while disregarding the rights of festival organizers and the British Christians who agree with Graham.
James Barrett, chairman of the Billy Graham Evangelistic Association board, praised the ruling and called it a rebuke to cancel culture in the UK.
"It is a significant day for religious liberty and freedom of speech," he said. "The court clearly affirmed that Christians and other people of faith who publicly express traditional religious views about marriage and human sexuality are protected by law."
More than 9,000 people heard Graham speak at the Festival of Hope, despite the lack of bus ads. The event was supported by about 200 area churches.
Blackpool and its public transportation company defended themselves against religious discrimination claims with several arguments in court last month.
First, they said there was a rule against all political and religious ads, regardless of specific content. The court rejected this claim, pointing out that though there is such a rule on the books, Graham's ad was accepted at first and Blackpool officials never referenced the written policy in their discussions about removing Graham's ad. Official correspondence indicates the town normally does allow political advertising.
Click here to read more.
Source: Christianity Today