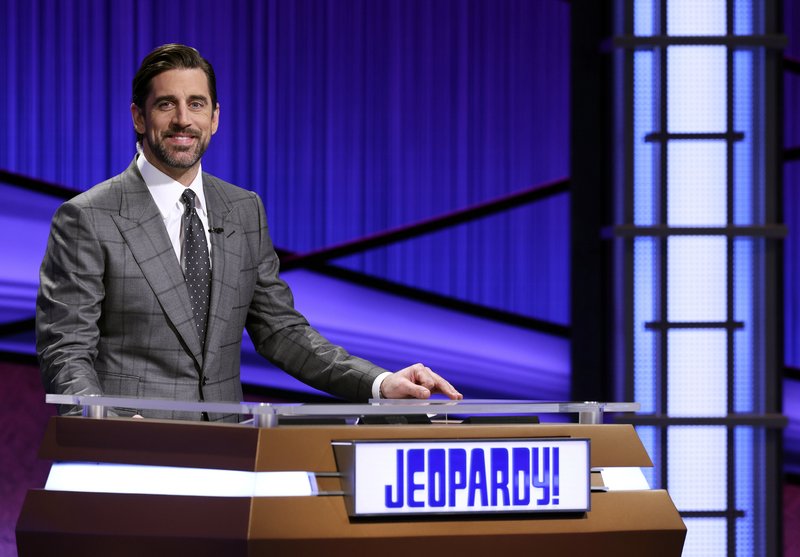 After hosting his first episode of "Jeopardy!" on Monday, Aaron Rodgers is slated to host the game show nine more times between now and April 16 when his guest hosting stint is scheduled to end. However, if it's up to Rodgers, that April 16 episode won't be his final one as host and that's because the Packers quarterback wants to be considered for the full-time job.
During an interview on Monday, Rodgers said he would absolutely take the permanent job if it was offered to him.
"I would love to be the host of 'Jeopardy!' yes," Rodgers told the Pat McAfee Show.
The fact that Rodgers was out campaigning to land the "Jeopardy!" job raised some eyebrows around the NFL and that's mostly because he already has a full-time job with the Packers. Although it might seem like Rodgers would have to retire from football if he wanted to host "Jeopardy!" that's actually not the case.
So how would that work?
Rodgers revealed his crazy plan during an interview with The Ringer: He would host the show AND play football.
"I don't think I'd need to give up football to do it," Rodgers said of hosting. "They film 46 days a year. I worked 187 this year in Green Bay. That gives me 178 days to do 'Jeopardy!' So I feel like I could fit 46 into that 178 and make it work. It would be a dream job for sure, and I'm not shy at all about saying I want the job. That's how I went into it. I want an opportunity to be in the mix."
Based on that math, Rodgers would still get 132 days off per year. It's probably also worth noting that the quarterback's fiancée, Shailene Woodley, is completely on board with him potentially becoming the full-time host of the show.
The Packers quarterback is the fifth person to guest host "Jeopardy!" since former host Alex Trebek died in November. Besides Rodgers, the show has also been hosted by Ken Jennings, Mike Richards (executive producer of the show), Katie Couric and Dr. Oz.
"I feel like I bring something different to the stage," Rodger said. "I'm the youngest of any of the guest hosts, I'd be the youngest host of just about any major game show."
After Rodgers' guest stint is over, he'll be followed by Anderson Cooper, Savannah Guthrie, Mayim Bialik, "60 Minutes" correspondent Bill Whitaker and Dr. Sanjay Gupta of CNN.
Click here to read more.
SOURCE: CBS Sports, John Breech