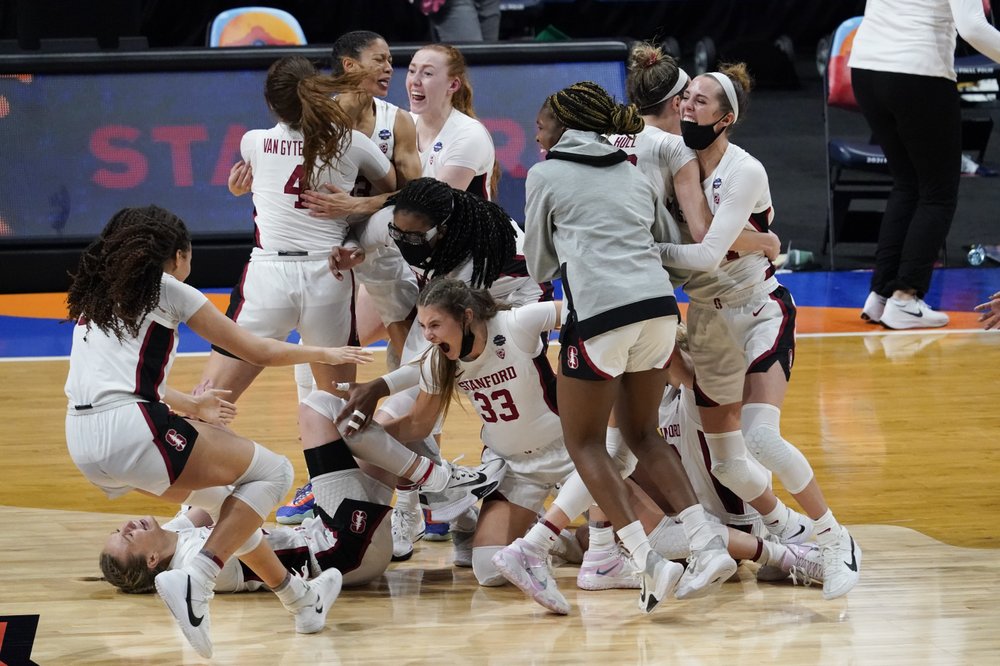 After a 29-year wait, the Stanford women's basketball team still had to sweat through 6.1 pressure-packed seconds to claim its third national championship.
The Cardinal got it, holding off Arizona 54-53 when star guard Aari McDonald missed a shot just before the buzzer. Coach Tara VanDerveer couldn't exhale until that moment. The No. 1 overall seed in the NCAA women's basketball tournament, Stanford leaves the Alamodome as champion, but Arizona leaves as an underdog team that captured the country's imagination and almost the program's first NCAA title.
It wasn't a masterpiece by any stretch with both teams struggling to score and missing easy layups and shots, but Stanford did just enough to pull off the win.
"Getting through all the things we got through, we're excited to win the COVID championship," VanDerveer said. "The other one was not quite as close, the last one. But we're really excited. No one knows the score, no one knows who scored, it's a national championship and I'm really excited to represent Stanford. It's a great team. We did not play a great game today, however. But if we can win, not playing as well as we need to, I'm excited."
Haley Jones scored 17 points to lead the Cardinal and was honored as the tournament's Most Outstanding Player.
"I just owe it all to my teammates, they have confidence in me when I don't have confidence in myself," said Jones. "I saw they needed me to come up big and I did."
VanDerveer and Stanford last won it all in 1992. The 29-year gap between NCAA titles is the longest for any Division I coach in any sport.
Stanford got off to a 12-3 start Sunday, forcing a timeout from Arizona, and the Cardinal led 16-8 after the first quarter. The Wildcats, who lost their two regular-season games to Stanford by 27 and 14 points, came back to take a brief second-quarter lead, but Stanford went up 31-24 at the break.
The rest of the game was close, as Arizona kept forcing Stanford turnovers and refused to back down. The Wildcats shot just 28.8% from the field, but still took the game to the buzzer. McDonald finished a brilliant tournament with 22 points, but was 5-of-20 from the field Sunday.
It's been quite a journey for VanDerveer and the Cardinal this season. The team was forced on the road for nearly 10 weeks because of the coronavirus, spending 86 days in hotels during this nomadic season. It prepared the Cardinal for the past three weeks in the NCAA tournament bubble in San Antonio. Along the way the Hall of Fame coach earned her 1,099th career victory to pass Pat Summitt for the most all time in women's basketball history.
Click here to read more.
SOURCE: ESPN, Mechelle Voepel