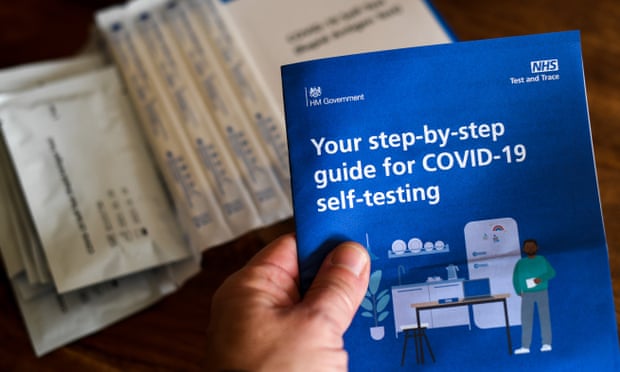 Boris Johnson is to unveil a plan for routine, universal Covid-19 tests as a means to ease England out of lockdown, as the government faced a renewed backlash over the idea of app-based "passports" to permit people entry into crowded places and events.
Six months after Johnson unveiled plans for "Operation Moonshot", a £100bn mass testing scheme that never delivered on its stated aim of preventing another lockdown, all people in England will be offered two Covid tests a week from Friday.
The prime minister is to announce the rollout of the lateral flow tests at a press conference on Monday afternoon, at which he will also outline a programme of trial events for mass gatherings, as well as proposals for potentially restarting foreign travel.
The testing scheme, involving kits for use at home or at test centres, workplaces and schools, is billed as a means to limit any continued community transmission of the virus, in parallel with the vaccination programme, and as a way to track outbreaks of potentially vaccine-resistant Covid variants.
The test-and-trace phone app will also be updated so that when pubs and other hospitality venues reopen everyone in a group will have to register, not just the lead person, with those who test positive asked to share other places they have visited.
Click here to read more.
Source: the Guardian