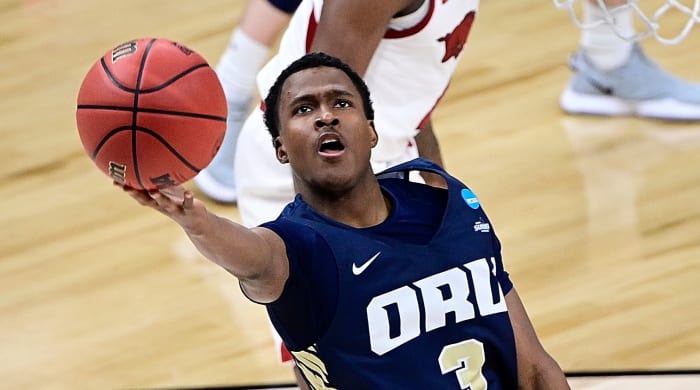 It ended the way it had to end. It ended with the ball in the hands of Oral Roberts's diminutive wisp of a bucket machine, Max Abmas, sprinting the ball upcourt in three urgent dribbles. The most dramatic moment of this tumultuous tournament was at hand, and the last play unfolded like a dream.
Arkansas was caught in Abmas's slip stream, chasing, having failed to deny the nation's leading scorer possession. Up two, the Razorbacks didn't cover the inbounds pass, hearkening back to a fateful decision by Rick Pitino in Philadelphia 29 years ago. Abmas caught the pass on the run and started down the far sideline with Arkansas guard Davonte Davis alongside but leery of fouling, while Jalen Tate trailed the play. ORU's 165-pound sophomore had daylight.
Given 3.1 seconds to get a good look at the shot of a lifetime, his internal clock was perfect. The orange light bordering the backboard illuminated with the ball halfway to the rim, signaling the finality of the moment. If the three-pointer dropped, the Golden Eagles become the first No. 15 seed in NCAA tournament history to reach a regional final. If the shot missed, third-seeded Arkansas prevails.
Up Abmas rose from 22 feet away, an undersized and under-recruited underdog trying to join the heroes of Marches past. He's listed at 6'1", but might be closer to 5'11". Other than Oral Roberts, his scholarship offers were from the service academies. There was some Ivy League interest as well, but the power programs ignored the kid from Rockwall, Texas.