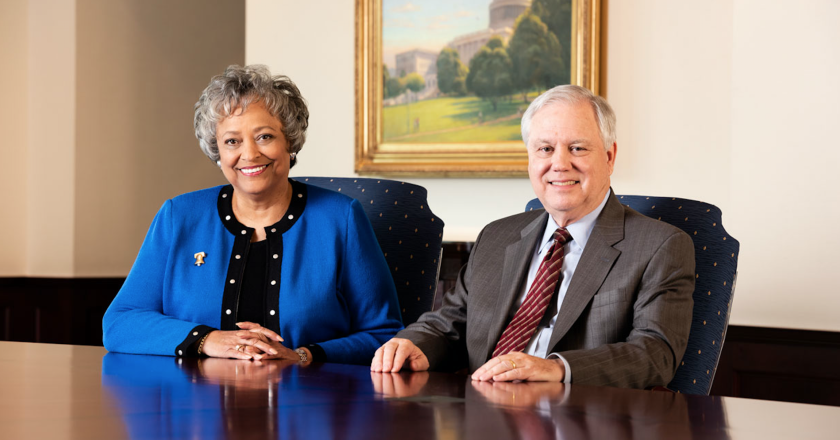 After serving as The Heritage Foundation's leadership team for the last three years, President Kay C. James and Executive Vice President Dr. Kim R. Holmes have announced their resignations. James will be staying on as president for up to six months until a replacement is found, after which she will become a Heritage distinguished visiting fellow. She will also remain on Heritage's board of trustees. Holmes' resignation is effective April 16.
"When we came on board as the executive leadership team three years ago, we set several goals and told Heritage's board of trustees that we would serve for three to five years to see them through," said James. "We accomplished everything we set out to do. Now it's time to let someone else take the reins."
James has served as the president of The Heritage Foundation, America's premier conservative think tank, since 2018 and as a trustee of Heritage's board since 2005. Throughout her service at Heritage, she has been dedicated to helping develop and promote solutions to the issues Americans face that are based on the principles of individual freedom, limited government, free enterprise, traditional American values, and a strong national defense.
With an unwavering commitment to Heritage's members, to its board and staff, and to the American people, James has pushed the organization to new heights. One of her great passions has been guiding Heritage to reach out and share its message with young people, minorities, and women who don't necessarily consider themselves conservative but who practice conservative principles in their daily lives.
During her time at Heritage, James has been instrumental in the organization playing a major role in influencing public policy in areas such as the economic and health recovery from the coronavirus pandemic, election integrity, immigration, China's increasing global influence, Big Tech, improving education, tax reform and deregulation, strengthening America's civil society, and more.
She also created Heritage's newest policy institute, the Edwin J. Feulner Institute, which seeks to reinvigorate every American's appreciation for this exceptional nation and its founding principles. Under her leadership, Heritage also created its Center for Technology Policy, which deals with high-level policy solutions for the ever-increasing roles the internet, artificial intelligence, and other advanced technologies have in government, business, and national defense, as well as their impact on public speech and personal privacy.
"I am incredibly grateful to Kay James and Kim Holmes for their leadership of The Heritage Foundation over the past three years," said Barb Van Andel-Gaby, chairman of Heritage's board of trustees. "Their tireless dedication to Heritage has taken the organization to new heights, led to numerous accomplishments, and positioned the Heritage team to be ready for the battles ahead. Heritage today is the most important conservative organization in America because of their leadership.
Click here to read more.
SOURCE: Heritage.org