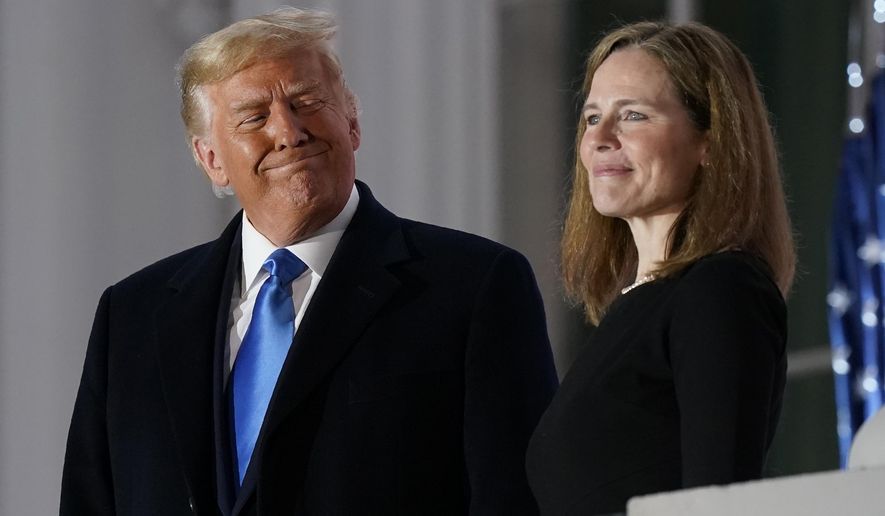 Supreme Court Justice Amy Coney Barrett, who was billed as a jurist in the mold of the late conservative icon Justice Antonin Scalia, is raising eyebrows with early rulings in which she sides with the high court's moderates.
Justice Barrett appeared to break with her mentor Scalia, for whom she clerked, when she joined the moderates and liberals on the bench in rejecting a pro-Trump challenge to Pennsylvania's election laws and leaving in place some COVID-19 restrictions on houses of worship.
She was President Trump's third high court appointee and has been on the bench for only about four months, not leaving much time for her to craft her own opinions.
She cast votes in a few pivotal cases, though, and aligned herself more with the moderate Chief Justice John G. Roberts Jr. and Justice Brett M. Kavanaugh than with more conservative colleagues such as Justices Neil M. Gorsuch, Samuel A. Alito Jr. and Clarence Thomas.
"I've heard some conservatives express frustration — sort of lump her with Roberts and Kavanaugh," said Curt Levey, president of the conservative Committee for Justice.
During Justice Barrett's confirmation hearings last year, Democrats pushed her to recuse herself from election-related cases and suggested that Mr. Trump nominated her to help his prospects.
She declined to say whether she would recuse herself. Just one day after she was sworn in, however, Justice Barrett did not participate in a challenge out of Pennsylvania in which state Republican lawmakers requested that the court expedite their case.
The challenge was brought in September. The Republican-majority Pennsylvania General Assembly said the state's executive branch altered election laws by changing the deadline for mail-in ballots and allowing ballots with illegible dates to be counted.
The justices were not involved in the dispute until three days after the election, when Justice Alito ordered Pennsylvania to separate all late-arriving ballots while the case was pending before the high court.
Click here to read more.
Source: Washington Times