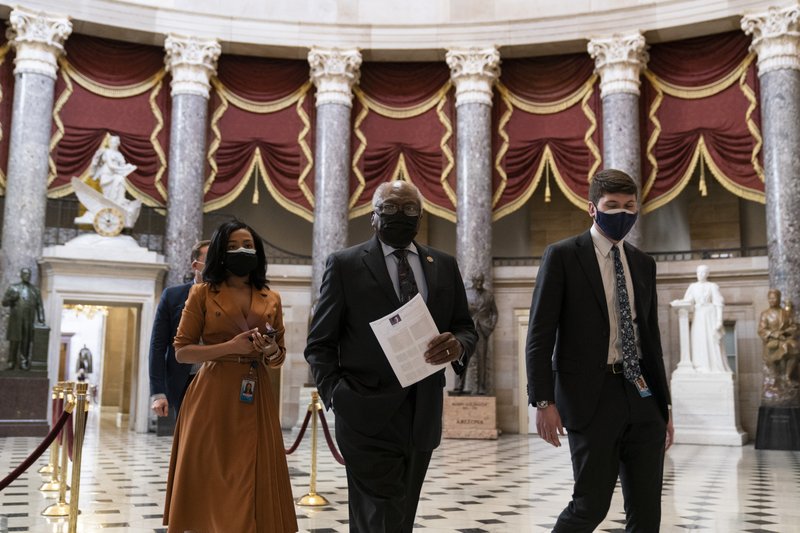 WASHINGTON (AP) — Congress sped toward final approval Wednesday of a landmark $1.9 trillion COVID-19 relief bill, as President Joe Biden and Democrats neared a major triumph for the party's priorities and showcased the unity they'll need to forge future victories.
The House was on track to use a virtual party-line vote to approve the 628-page measure, which represents Democrats' effort to bridle the catastrophic pandemic and revive the enfeebled economy. Four days after the Senate passed the measure over unanimous Republican opposition, GOP House counterparts were poised to do the same for a bill they've characterized as bloated, crammed with liberal policies and heedless of signs the dual crises are easing.
Democrats rejected those complaints.
"I call upon my Republican colleagues to stop their March madness and show some compassion for their constituents who are less than wealthy," said No. 3 House Democratic leader James Clyburn of South Carolina as the House debated the legislation.
For Biden and Democrats, the bill is essentially a canvas on which they've painted their core beliefs — that government programs can be a benefit, not a bane, to millions of people and that spending huge sums on such efforts can be a cure, not a curse. The measure so closely tracks Democrats' priorities that several rank it with the top achievements of their careers, and despite their slender congressional majorities there was never real suspense over its fate.
They were also empowered by three dynamics: their unfettered control of the White House and Congress, polls showing robust support for Biden's approach and a moment when most voters care little that the national debt is soaring toward a stratospheric $22 trillion. Neither party seems much troubled by surging red ink, either, except when the other is using it to finance its priorities, be they Democratic spending or GOP tax cuts.
Republicans noted that they've overwhelmingly supported five previous relief bills Congress has approved since the pandemic struck a year ago — when divided government under then-President Donald Trump forced the parties to negotiate. They said this one, written solely by Democrats, was a bridge too far.
"This isn't a rescue bill, it isn't a relief bill. It's a laundry list of left-wing priorities that predate the pandemic," said House Minority Leader Kevin McCarthy of California.
A dominant feature of the bill is initiatives making it one of the biggest federal thrusts in years to assist lower- and middle-income families. Included are expanded tax credits over the next year for children, child care and family leave plus spending for renters, feeding programs and people's utility bills.
The measure provides up to $1,400 direct payments to most Americans, extended emergency unemployment benefits and hundreds of billions for COVID-19 vaccines and treatments, schools, state and local governments and ailing industries from airlines to concert halls. There is aid for farmers of color and pension systems, and subsidies for consumers buying health insurance and states expanding Medicaid coverage for lower earners.
Click here to read more.
Source: AP