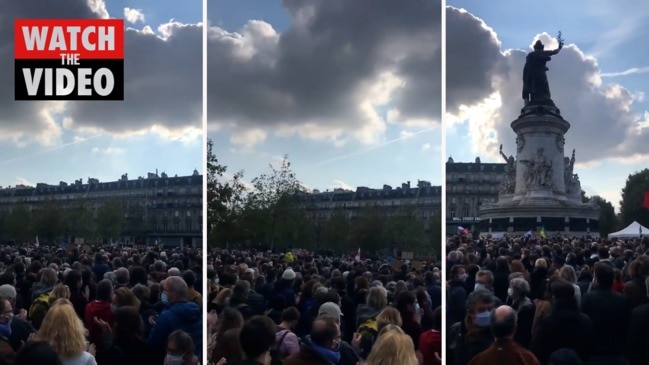 A French schoolgirl has admitted to making up a story about her teacher that resulted in him being beheaded on the street.
Samuel Paty, 47, was killed in October last year after the student claimed he asked Muslim students to leave the classroom when showed cartoons of the Prophet Muhammad during a lesson on freedom of speech.
At the time the 13-year-old girl, who has not been named, told her father that she had denied Mr Paty's request to leave and was suspended following her refusal.
For Muslims, depicting the Prophet is considered blasphemous.
After hearing his daughter's claims, the girl's father lodged a legal complaint and launched an online tirade against Mr Paty, where he shared the school's address while calling for "mobilisation" against the teacher.
Days later Mr Paty was stabbed to death and beheaded on the street by 18-year-old Russian national Abdullakh Anzorov.
Now, the schoolgirl at the centre of the incident has admitted to lying and spreading false claims about her teacher, her lawyer revealed.
"She lied because she felt trapped in a spiral because her classmates had asked her to be a spokesperson," her lawyer Mbeko Tabula told AFP.
It has since been revealed that the girl wasn't even present during Mr Paty's lesson because she had been suspended over her repeated absence from school, Le Parisien newspaper reported.
As he had done in previous free speech lessons over the years, Mr Paty warned his students that he was about to show a depiction of Muhammad. He said anyone that didn't want to see it could close their eyes, but didn't order Muslim students to leave the room, as the girl had claimed.
The images he showed were caricatures published by satirical magazine Charlie Hebdo, which previously had sent waves of anger through the Islamic community.
In 2015, Islamic gunmen massacred 12 people who worked for the magazine.
In a leaked testimony, the girl claimed she made up the story in order to not disappoint her father.
Click here to read more.
Source: News.com.au