Have you ever been reminded unexpectedly of a book from your past that influenced you enormously at an earlier time in your life? Earlier this week I was rearranging the books in my library in order to put some new volumes in their proper place on the shelf when a book caught my eye that has really ministered to me over the years. The book is Strength to Love by Dr. Martin Luther King Jr. I am not surprised that Mrs. King said that "if there's one book that Martin . . . has written that people consistently tell me has changed their lives, it is Strength to Love." She explained that this book embodied the foundational force behind Dr. King and his ministry — "the transcendent moral ethic of love."
As I leafed through the book earlier this week, my eyes fell upon one of many passages I had highlighted when I read the book when it was first published in 1963. One underlined passage reads, "Few words in the New Testament more clearly and solemnly express the magnanimity of Jesus' spirit than that sublime utterance from the cross, 'Father, forgive them; for they know not what they do.' This is divine love at its best."
Dr. King points out it was precisely at this point where Jesus was suffering an unjustified, excruciating, agonizing death that he pleaded, "Father, forgive them." Dr. King then expands on the subject (one notices that Dr. King wrote the way he spoke, with a melodic eloquence that lingers in your mind.) Jesus taught his followers "to love their enemies and to pray for them that despitefully used them. This teaching fell upon the ears of many of His hearers like a strange music from a foreign land."
Click here to read more.
SOURCE: Christian Post, Richard Land
---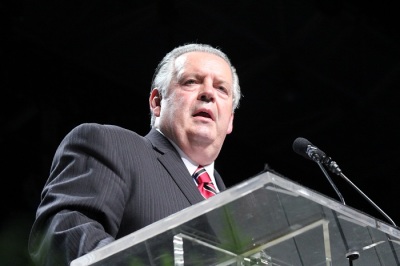 Dr. Richard Land, BA (magna cum laude), Princeton; D.Phil. Oxford; and Th.M., New Orleans Baptist Theological Seminary, was president of the Southern Baptists' Ethics & Religious Liberty Commission (1988-2013) and has served since 2013 as president of Southern Evangelical Seminary in Charlotte, NC. Dr. Land has been teaching, writing, and speaking on moral and ethical issues for the last half century in addition to pastoring several churches. He is the author of The Divided States of America, Imagine! A God Blessed America, Real Homeland Security, For Faith & Family and Send a Message to Mickey.