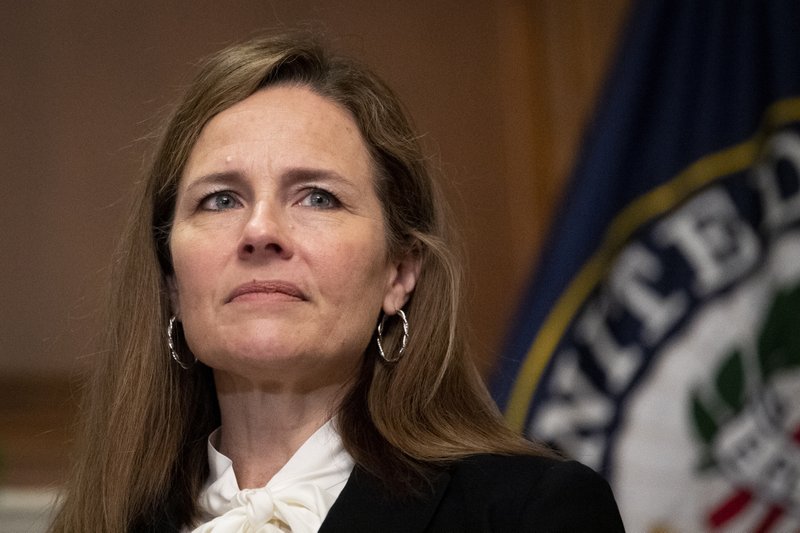 Donald Trump's third Supreme Court pick Justice Amy Coney Barrett was snubbed in her first written opinion for the majority Thursday, as the court not only departed from tradition by not voting unanimously but also eliminated the word 'respectfully' from its dissent.
Coney Barrett wrote in the majority 7-2 opinion that the Sierra Club could not obtain access to documents regarding structures used to cool industrial equipment, which the group argues could potentially harm wildlife.
All six conservative justices ruled against the Sierra Club and were joined in the majority opinion by Obama-appointed liberal Justice Elena Kagan. The two remaining liberal Justices Stephen Breyer and Sonia Sotomayor wrote the dissenting opinion.
Coney Barrett wrote in the ruling that while the Freedom of Information Act does make 'records available to the public upon request,' she argues that this particular case falls 'within one of nine exemptions.'
Those exemptions include 'documents generated during an agency´s deliberations about a policy, as opposed to documents that embody or explain a policy that the agency adopts,' she wrote.
The Sierra Club is a massive environmental group with chapters in all 50 states – it was suing to be granted access to documents.
It's somewhat of a tradition for a new Supreme Court justice to be assigned a case where the court reaches a unanimous opinion – but this isn't always the case, as evident by Coney Barrett's first opinion.
Coney Barrett is Trump's third pick for Supreme Court in just four years in the White House.
Both of the former president's other nominees, Justice Neil Gorsuch and Brett Kavanaugh, wrote unanimous first opinions. Sotomayor also got a unanimous opinion for her first assignment.
Former President Barack Obama's other nominee, Justice Elena Kagan, was assigned a first opinion where the court divided 8-1.
Click here to read more.
SOURCE: Daily Mail, Katelyn Caralle