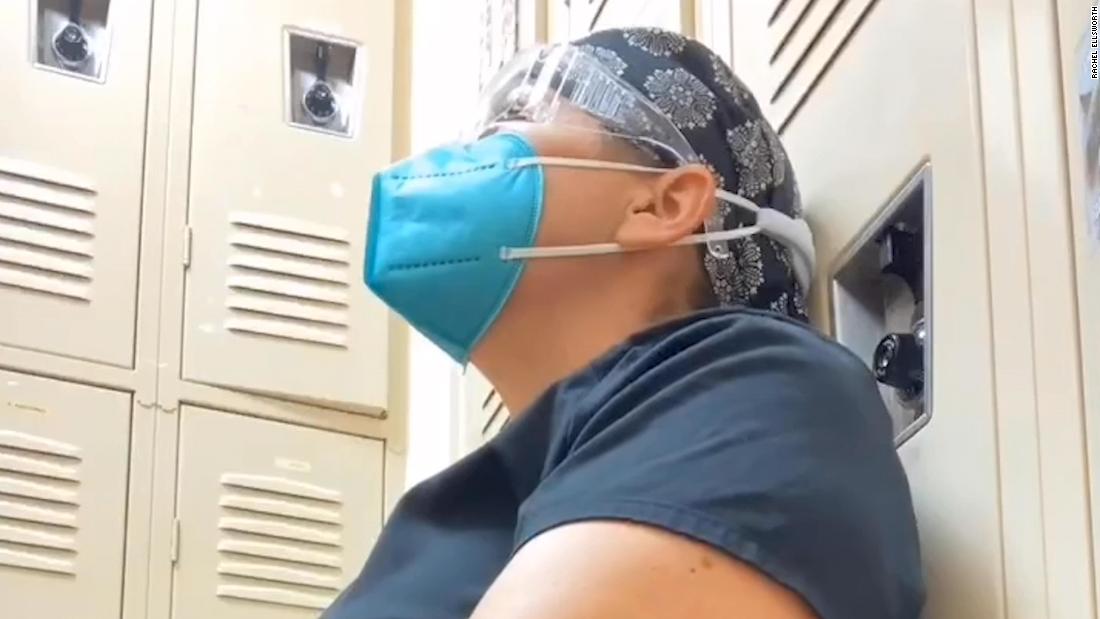 Nursing was more than a career to Rachel Ellsworth. She says she was "called" to the work.
For 10 of her 12 years in nursing, Ellsworth was an indefatigable intensive care nurse. The work energized her, and she felt privileged to witness some of the most important moments of people's lives, when their worlds shifted for better or worse. Though she did all she could to save them, she also found purpose in giving her patients a "peaceful, dignified death" when it was time.
"I was the kind of person who went into work every day, like, literally, 'Let's go save lives,' for 12 years" she said. "I was just so excited to be there, so full of hope and compassion."
When the pandemic began in spring 2020, her commitment was tested but not quashed. She and her colleagues talked about renting apartments and living apart from their families to serve their patients. Residents of their southeast Florida community threw parades for them to thank them for their work. Ellsworth felt supported, like the sacrifices she'd made were worth it.
Summer was worse. The hospital where she worked saw a major spike in Covid-19 patients. Some of those previous unknowns about the virus now had answers, many of them grim. It became disturbingly clear when a patient wouldn't survive.
"We were very limited in what we could do to help them," she said. "We were losing."
The stress came to a head in late 2020 when a Covid-19 patient she "just adored, the sweetest guy," begged her to try any treatments that could save him. But they'd tried everything. She had no hope to give him. There was no dignifying his death.
After months of debating the decision, she finally quit her job in January.
"It broke me," she said. "It was just too much."
Almost a year into the Covid-19 pandemic, America's nurses — who for almost 20 years have been voted the country's most trusted professionals — are running on empty. They've reused PPE, canceled PTO and worked extended shifts for employers they don't always feel value their safety.
The stress and lack of support has driven many nurses to quit their jobs. And during the worst health crisis the US has seen in more than a century, the health care system can't afford to lose them.
The mental-health impact this is going to have on nurses … I don't think we've even scratched the surface of it yet. – RACHEL ELLSWORTH
CNN spoke to three nurses from Florida, Oklahoma and Minnesota about why they quit their hospital jobs. It wasn't a decision any of them made lightly — they've been nurses their entire adult lives.
And all three said they're still overcome with guilt about leaving their jobs during the pandemic — even if they knew their decision was the right one.
"The mental-health impact this is going to have on nurses … I don't think we've even scratched the surface of it yet," Ellsworth said.
Click here to read more.
SOURCE: CNN, Scottie Andrew