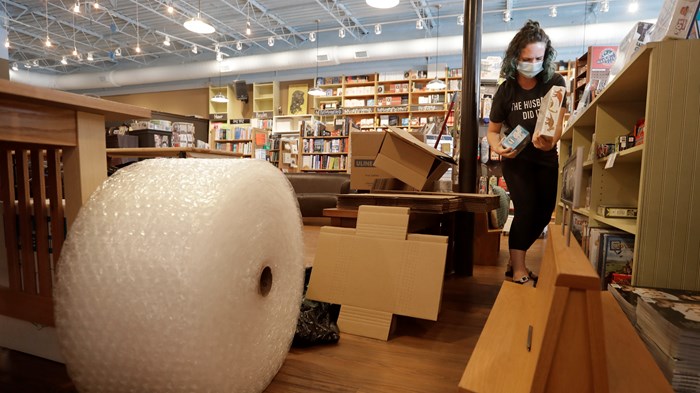 A new item at Christian bookstores in 2020 shot straight to the top of the sales charts: face masks with faith messages.
Christian retailers across the country sold masks with the messages "Not Today Satan" and "This too shall pass," as well as "Faith Over Fear," "Blessed Beyond Belief," and "It is well with my soul," as stores found creative ways to continue business in a pandemic.
Two new industry surveys show that Christian retail was hard hit by COVID-19 and the subsequent safety restrictions, but store owners persisted with stubborn optimism. The Parable Group's 2021 State of Christian Retailing report found more than half of store owners are concerned about cash flow, but 87 percent predict a "healthy" or "steady" future—up 12 points from 2019.
More than a third of Christian bookstores were closed for more than two months because of the pandemic. Sales in March, April, and May were down 60 to 80 percent from the previous year. The Christian Retail Association (CRA) reports that sales stayed down for nine months in 2020, only recovering with Christmas shopping in December. Parable's survey of 230 stores documented annual sales of $58 million—13 percent below 2019 revenue.
Looking at the year, however, individual store owners could see silver linings and God's faithfulness. Kevin VanDuyne, owner of Joy Christian Bookstore, reported that his two outlets in Indiana were closed for a total of eight months, but his sales were only down 17 percent.
"Summary," he wrote on the CRA survey: "GOD IS SO AMAZING, GOD IS SO….GOOD!!!"
Stephanie Gann, owner of Living Water Bookstore in Paris, Texas, had a similar testimony.
"Though I thought the COVID-shutdown would be the end of us, God has been SO faithful," she wrote. "We've been able to pay our bills on time every month, and we had a little leftover at the end of the year."
The industry is no stranger to struggle. Roughly 1,000 Christian bookstores closed between 2010 and 2020, including the two largest chains, Family Christian Stores and LifeWay Christian Stores. Neither recent industry report indicated how many Christian bookstores closed in 2020.
Parable Group president Greg Squires said there were at least a few that went out of business in the pandemic, but the number didn't seem a lot higher than the trend. It's possible the stores that survived the economic crisis and found ways to compete with Amazon in the last decade were the ones in the best position to survive a pandemic-related economic shutdown.