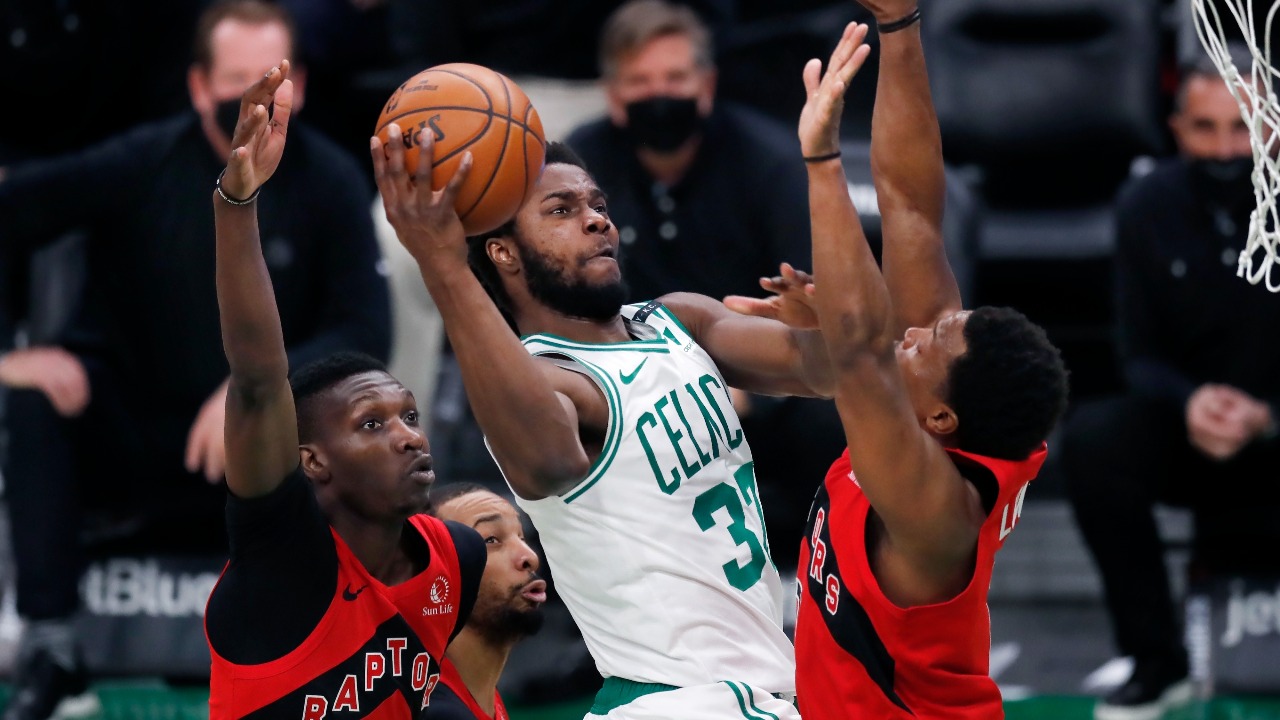 Boston Celtics head coach Brad Stevens describes forward Semi Ojeleye as being very reliable. That's why he turned to Ojeleye on Thursday night to fill in as a starter, marking only his second start of the season, and 11th of his four-year NBA career.
Ojeleye took full advantage of the opportunity. He led his team in scoring with a career-high 24 points, a result of hitting six 3-pointers. In the 120-106 Boston win over Toronto, Ojeleye played a season-high 30 minutes, and was extremely efficient with that time — 8-of-12 shooting from the field (66.7 percent), 6-of-8 from 3-point range (75 percent), and 2-for-2 from the free-throw line.
Teammate Payton Pritchard also hit six 3-pointers, making Ojeleye and Pritchard the first pair of Celtics teammates to ever make at least six 3-pointers in the same game.
"I really try to focus on the process of shooting and not necessarily the result," Ojeleye told the media after the game. "When you get caught up in makes and misses, you ride that up and down. But this year I just try to focus on shooting the ball the right way, and God takes care of the rest."
Semi Ojeleye helped lead us to a 120-106 victory over the Raptors, with his career-high performance of 24 points. pic.twitter.com/UOCEYpjg3J

— Boston Celtics (@celtics) February 12, 2021
https://platform.twitter.com/widgets.js
24 PTS
6 RBS
6-8 3PM@semi was tonight's @gatorade player of the game🔥 pic.twitter.com/Dj5ZZrYK9L

— Boston Celtics (@celtics) February 12, 2021
https://platform.twitter.com/widgets.js
"Semi, he was great," teammate Kemba Walker told the media Thursday night. "He was great, man. He made his shots. Defensively he was great. We're all really confident in Semi. He works so hard. I'm always talking to him and tell him, 'Shoot those shots.' Tonight, he shot it with confidence, and we just kept finding him."
It was a night Ojeleye won't soon forget, and a performance that could lead to more playing time. He currently sits ninth on the team in minutes played, averaging 18.4 a game for the 13-11 Celtics.
Ojeleye, who played two years of college ball at Duke before transferring to Southern Methodist University, would of course welcome an increase in minutes. Since being drafted in the second round (37th overall) of the 2017 NBA Draft, he's averaged 14.4 minutes and 3.4 points a game. But Ojeleye says the game of basketball, or how he performs, will never define him.
Click here to read more.
SOURCE: Sports Spectrum, Jon Ackerman