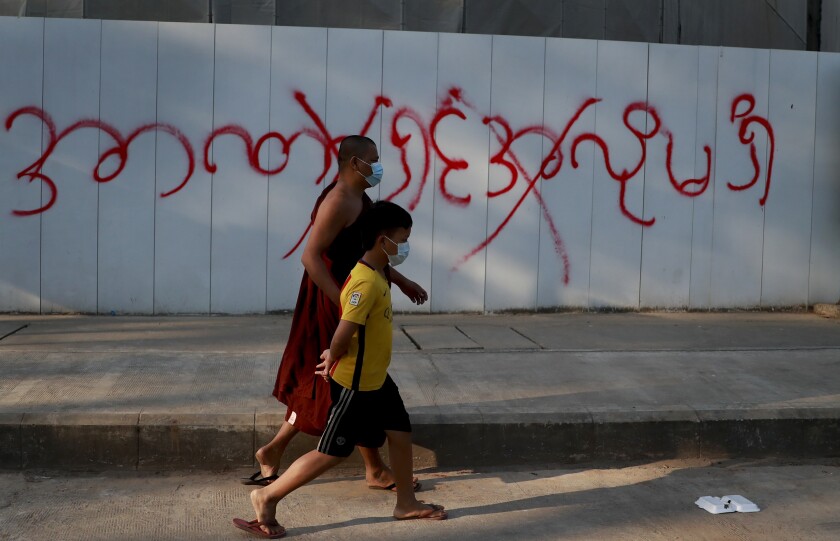 Myanmar's new military rulers have blocked access to Facebook amid rising resistance and calls for civil disobedience to protest the coup that ousted the elected civilian government led by Aung San Suu Kyi.
Facebook is especially popular in Myanmar, and the government had frequently made public announcements on the social media site.
The military seized power shortly before a new session of parliament was to convene Monday and detained Suu Kyi and other top politicians.
About 70 recently elected lawmakers defied the new military government Thursday by convening a symbolic meeting of the parliament that was prevented from opening. They signed their oaths of office at a government guesthouse in the capital, Naypyitaw, where about 400 of them had been detained immediately after the takeover. They have since been told they can return to their home districts.
The unofficial convening was a gesture to assert that they, not the military, are the country's legitimate lawmakers. Some expressed their anger and their determination to resist the coup as they left the guesthouse.
"This violates the human rights of the whole citizenry," said Khin Soe Soe Kyi, a member of Suu Kyi's National League for Democracy party. "This is not a coup. This is a treason against the government. I will have to say that this is state treason."
The military said it took over because the government refused to address its complaints that November's general election, in which Suu Kyi's party won a landslide victory, was marred by widespread voting irregularities. The state Election Commission has rejected the allegations.
Click here to read more.
SOURCE: LA Times