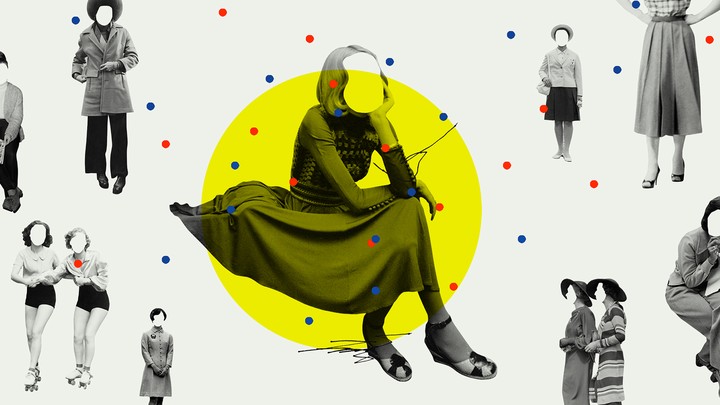 A few months ago, when millions of Americans were watching the Netflix series Emily in Paris because it was what we had been given that week, I cued up the first episode and was beset almost immediately by an intense longing. Not for travel, or for opportunities to wear beautiful clothes—two commonly cited high points in an otherwise charmless show—but for sports. Specifically, watching sports in a packed bar, which is what the titular character's boyfriend is doing when the viewer meets him.
The scene is fleeting, and it's also pretty bad. It doesn't come close to capturing the sweaty intensity of a horde of nervous fans, poised to embrace each other in collective joy or drink through despair. I know this because I am, sometimes unfortunately, a person who has spent a good chunk of her adult social life watching sports in bars, both with my actual close friends and with 500 or so fellow travelers at the New York City bar that hosts expatriated University of Georgia alumni during college-football season.
During the pandemic, I've been able to maintain, on an outdoor TV, the ability to watch a game with a couple of my closest buddies, which is a balm. But the other experience—the one Emily in Paris was trying to portray—has been lost entirely. In noticing all the ways the show misunderstood its joys, I realized how much I missed it, and especially how much I missed all of those people I only sort of know. Of the dozens of fellow fans and bar employees I'd greet with a hug on a normal fall Saturday, I follow only a handful of them on social media; for most of the others, I know only the first names, if that. But many comforted me through mutual, bone-deep disappointment, or sprayed champagne at me in exhilaration.
In the weeks following, I thought frequently of other people I had missed without fully realizing it. Pretty good friends with whom I had mostly done things that were no longer possible, such as trying new restaurants together. Co-workers I didn't know well but chatted with in the communal kitchen. Workers at the local coffee or sandwich shops who could no longer dawdle to chat. The depth and intensity of these relationships varied greatly, but these people were all, in some capacity, my friends, and there was also no substitute for them during the pandemic. Tools like Zoom and FaceTime, useful for maintaining closer relationships, couldn't re-create the ease of social serendipity, or bring back the activities that bound us together.
Understandably, much of the energy directed toward the problems of pandemic social life has been spent on keeping people tied to their families and closest friends. These other relationships have withered largely unremarked on after the places that hosted them closed. The pandemic has evaporated entire categories of friendship, and by doing so, depleted the joys that make up a human life—and buoy human health. But that does present an opportunity. In the coming months, as we begin to add people back into our lives, we'll now know what it's like to be without them.
________________
American culture does not have many words to describe different levels or types of friendship, but for our purposes, sociology does provide a useful concept: weak ties. The term was coined in 1973 by the Stanford sociologist Mark Granovetter, and it comprises acquaintances, people you see infrequently, and near strangers with whom you share some familiarity. They're the people on the periphery of your life—the guy who's always at the gym at the same time as you, the barista who starts making your usual order while you're still at the back of the line, the co-worker from another department with whom you make small talk on the elevator. They're also people you might have never directly met, but you share something important in common—you go to the same concerts, or live in the same neighborhood and frequent the same local businesses. You might not consider all of your weak ties friends, at least in the common use of the word, but they're often people with whom you're friendly. Most people are familiar with the idea of an inner circle; Granovetter posited that we also have an outer circle, vital to our social health in its own ways.
During the past year, it's often felt like the pandemic has come for all but the closest of my close ties. There are people on the outer periphery of my life for whom the concept of "keeping up" makes little sense, but there are also lots of friends and acquaintances—people I could theoretically hang out with outdoors or see on videochat, but with whom those tools just don't feel right. In my life, this perception seems to be largely mutual—I am not turning down invites from these folks for Zoom catch-ups and walks in the park. Instead, our affection for each other is in a period of suspended animation, alongside indoor dining and international travel. Sometimes we respond to each other's Instagram Stories.
Click here to read more.
SOURCE: The Atlantic, Amanda Mull