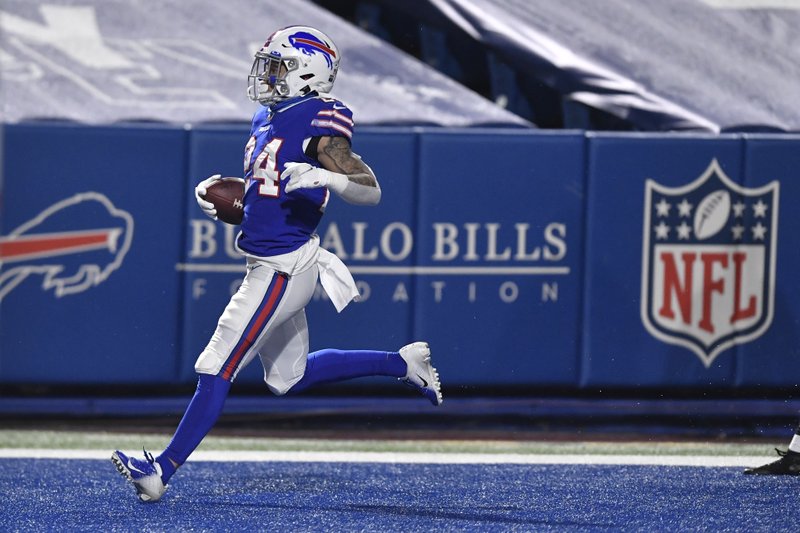 Sparked by cornerback Taron Johnson's record-tying, 101-yard interception return for a touchdown in the third quarter, the Buffalo Bills defeated the visiting Baltimore Ravens 17-3 on Saturday night to advance to the AFC Championship Game for the first time since the 1993 season.
The second-seeded Bills will face the winner of Sunday's game between the Cleveland Browns and Kansas City Chiefs (CBS, 3:05 p.m. ET).
If the defending Super Bowl champion Chiefs win, the Bills will travel to Arrowhead Stadium for the game next Sunday at 6:40 p.m. ET. If the Browns prevail, the AFC Championship Game will be played in c next Sunday at the same time.
The last time the Bills played in the AFC Championship Game was Jan. 23, 1994. They beat the visiting Chiefs that year to earn their fourth straight trip to the Super Bowl (a game the Bills would lose for the fourth straight year).
The Bills' return to prominence under fourth-year head coach Sean McDermott has had western New York buzzing, with Saturday night's contest played at Bills Stadium before approximately 6,700 fans who sounded more like 67,000 on NBC's television broadcast. The stadium had been closed throughout the regular season due to COVID-19, but state and local officials put together a plan for the postseason that allowed attendees who registered a negative coronavirus test to attend.
"What a great environment. I know all of our fans couldn't be in the building, but it was loud again. Great atmosphere," McDermott said. "We came here with a vision, and seeing it move forward in the right direction feels good."
Johnson's 101-yard interception return of Ravens quarterback Lamar Jackson's throw, which tied the NFL's postseason record set by the Green Bay Packers' George Teague in 1993, helped break things open in windy conditions that McDermott called "a typical western New York night."
Just as it appeared the Ravens were driving for a potential tying touchdown on a march that lasted more than eight minutes, Jackson didn't seem to see Johnson cut underneath on third-and-goal from the 9-yard line.
"Coach made a good call, a Cover-2 call, and I'm just reading the eyes of the quarterback. I have the seam in that coverage, and he took me to the back side, and all I did was cheat. He didn't see me, and the ball came to me," Johnson said, adding that his first thought was to take a knee for a touchback.
"I kind of looked down, but then I looked up, and I saw a whole bunch of green grass to the right side. So I figured if I could race over there — I know Lamar is fast, but if I have lead blockers, I feel like I could take it."
Click here to read more.
SOURCE: ESPN Mike Reiss