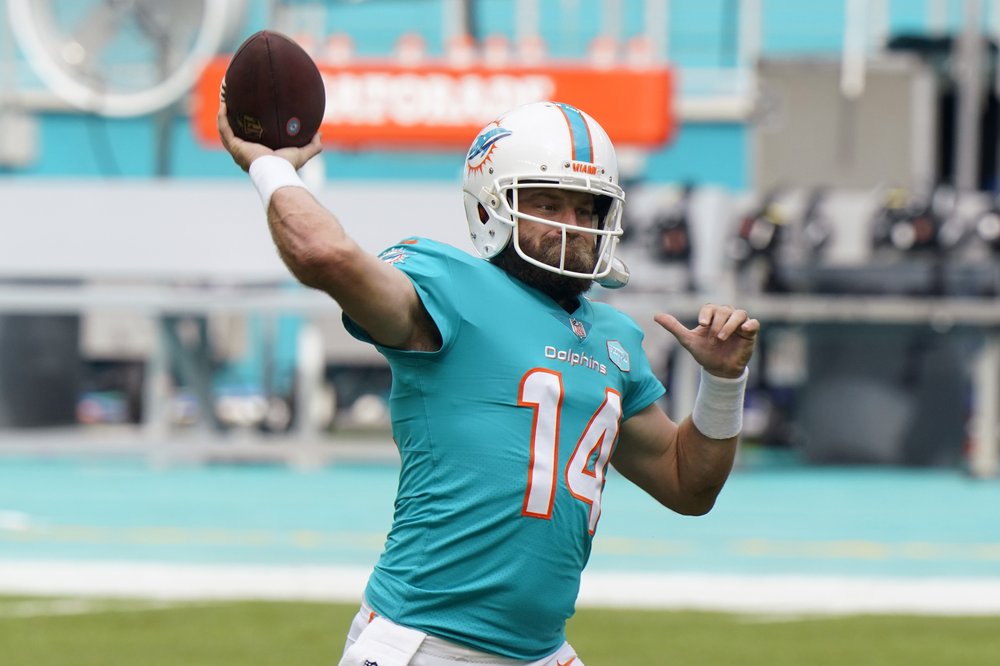 The Miami Dolphins have announced that quarterback Ryan Fitzpatrick will not be available for the team's final regular-season game on Sunday after testing positive for the novel coronavirus.
Fitzpatrick, 38, was placed on the Dolphin's reserve/COVID-19 list on Thursday, a day after he last practiced with the team, ESPN reported. Miami is on the brink of a playoff berth and can clinch a spot if they beat the Buffalo Bills on Sunday, or if a number of other teams lose. They currently have a 10-5 record.
"It hurts. He's a leader on our team. He brings energy," Dolphins safety Eric Rowe told reporters after Fitzpatrick's diagnosis. "I'm sure it's worse for him because he loves the game and no one wants to catch COVID. With that, you have to push forward."
"COVID is a real-deal thing whether you don't have symptoms or you do," he added. "Just praying he doesn't have symptoms or he didn't pass it to his kids."
According to NFL Network reporter Tom Pelissero, the league conducted contact tracing after Fitzpatrick's diagnosis and found no other players who were "high-risk contacts."
The Dolphins are the eighth team Fitzpatrick has played for during his 16-year NFL career. He joined the team in March 2019.
The news of Fitzpatrick's illness comes as other cases have appeared around the league this week. Two players from the Los Angeles Rams — Cooper Kupp and Michael Brockers — were each placed on the reserve/COVID-19 list ahead of their regular-season finale against the Arizona Cardinals on Sunday.
Click here to read more.
SOURCE: Yahoo! Sports, Jason Duaine Hahn