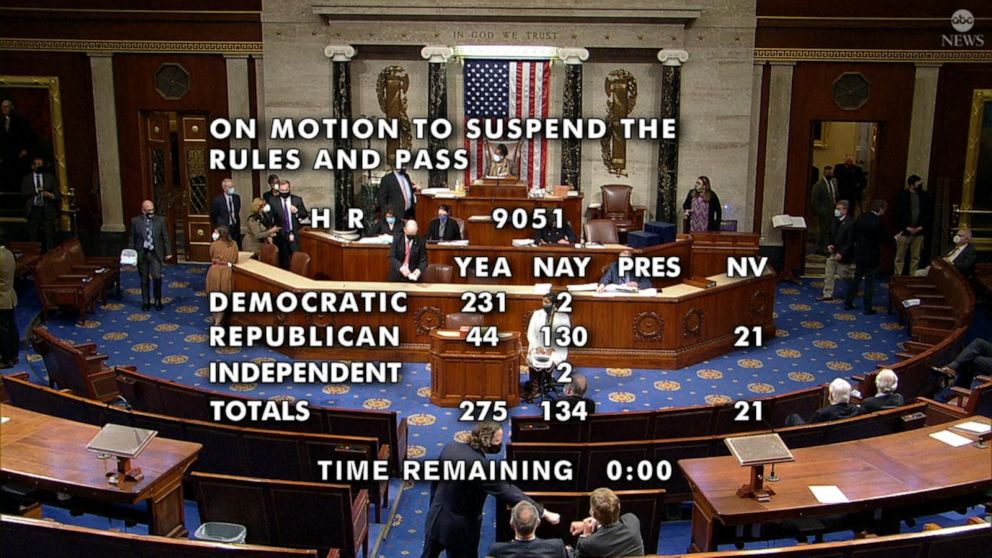 The House on Monday approved giving Americans weathering the coronavirus pandemic $2,000 stimulus checks, substantially boosting payments from the $600 checks that were set to be given out as part of a COVID-19 relief package that President Donald Trump signed into law Sunday evening.
The bill, which passed in a 275 – 134 vote, needed the support of two-thirds of House members present — a feat hard to reach in such a divided Washington. Republicans did not whip or pressure lawmakers on vote, leaving it up to members to decide on the bill's fate after House Minority Leader Kevin McCarthy, R-Calif., last week blocked a unanimous consent request by Democrats to increase stimulus checks to $2,000.
The measure will now head to the GOP-controlled Senate where its future remains unclear. Senate Republicans have for months stressed over increased government spending and are likely to oppose the measure despite Trump's demands.
Senate Minority Leader Chuck Schumer, D-N.Y., said he would force the chamber to take up the measure Tuesday but only one senator would need to object to block the bill from passing.
"Following the strong bipartisan vote in the House, tomorrow I will move to pass the legislation in the Senate to quickly deliver Americans with $2,000 emergency checks," Schumer said in a statement Monday. "Every Senate Democrat is for this much-needed increase in emergency financial relief, which can be approved tomorrow if no Republican blocks it – there is no good reason for Senate Republicans to stand in the way."
A vote on this measure will force conservative lawmakers into an uncomfortable position: either cave on their long-held objections or snub a key demand of the president in the last weeks of his tenure.
The vote Monday marked a test for Republicans, who have opposed more government spending, even as Trump pressed for checks to be boosted to $2,000 per adult and $4,000 per couple. Congress' nonpartisan Joint Committee on Taxation estimated that raising the payments to $2,000 per adult would cost nearly $464 billion. The division between congressional Republicans and the president comes at a moment where Trump is counting on conservatives to help him in his battle over the results of the election.
Click here to read more.
SOURCE: USA Today, Christal Hayes