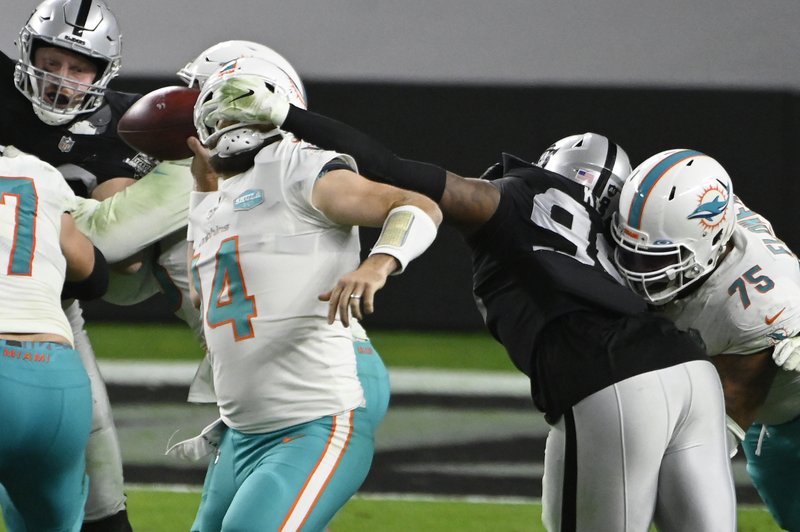 In a wild final 10 minutes, the Miami Dolphins benched their quarterback, committed a critical defensive penalty and allowed an 85-yard TD.
And they won, 26-25, saving their playoff hopes in what has been a miraculous season, moving their record to 10-5.
The Las Vegas Raiders, who fell to 7-8, appeared to be ready to beat Miami and remain in the playoff race after Daniel Carlson's field goal gave them a 25-22 lead with 19 seconds left.
But the Raiders committed a terrible face mask penalty and allowed a 34-yard catch in the final seconds to improbably blow the lead.
Ryan Fitzpatrick replaced a healthy Tua Tagovailoa with just under 10 minutes left and the Dolphins down 16-13. And all Fitzpatrick did in three drives was throw for 182 yards and a TD, keeping Miami's playoff hopes very much alive.
Tagovailoa completed 17 of 22 passes, threw for a TD and didn't turn the ball over. But he compiled only 94 passing yards on safe, short passes and took three drive-ending sacks.
That's when Dolphins head coach Brian Flores had seen enough. For the second time this season, Flores yanked Tua and went with Fitzpatrick.
The move and the timing were interesting to say the least, considering the close game. Flores' gut has served him well in what could be a Coach of the Year campaign. He'd be proven right again Saturday.
It wouldn't be the last controversial coaching decision in the game.
Fitzpatrick nearly doubled Tagovailoa's numbers in the final 10 minutes, completing nine of 13 passes for 182 yards and a 59-yard TD to Myles Gaskin that gave Miami a 23-22 lead. The Raiders had taken the lead moments earlier on Nelson Agholor's sidewinding 85-yard score, but kicker Daniel Carlson botched the extra-point try.
Click here to read more.
SOURCE: Yahoo! Sports, Eric Edholm