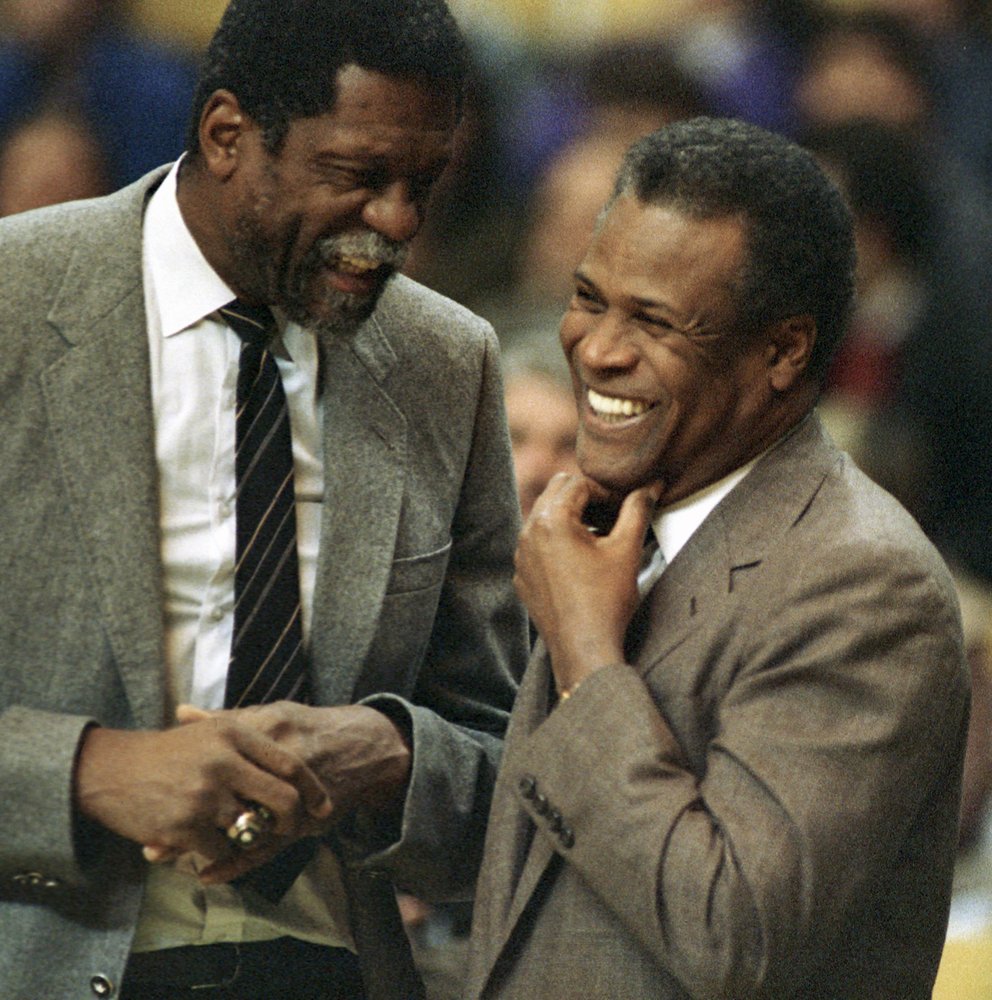 K.C. Jones, who personified winning as a hard-nosed point guard and then coach of the Boston Celtics during a Hall of Fame career, has died, the Celtics announced Friday. He was 88.
K.C. was Jones' given name, although some joked the "C" stood for championships. It was easy to see why.
He played nine seasons in the NBA, all with the Celtics, and won titles in eight of them — the third most in league history, behind only longtime teammates Bill Russell (11) and Sam Jones (10). That success carried over to his coaching days, when he won three titles (one as an assistant, two as a head coach) during Boston's run of success in the 1980s with Larry Bird & Co.
He also won a championship in 1972 as an assistant coach with the Los Angeles Lakers.
Jones wasn't flashy, and his playing days weren't filled with gaudy stat lines; he averaged just 7.4 points in his career. But the 6-foot-1 guard was the consummate team player whose defense gave fits to opposing stars like Jerry West and Oscar Robertson and whose playmaking made the Celtics' engine go.
"I just didn't see how a man who shot as poorly as K.C. could stay in the NBA," recalled Bob Cousy, the famed Celtics point guard whom Jones backed up initially and then replaced as a starter when "Cooz" retired in 1963. "I really didn't think his other skills would be enough to keep him around. But I was wrong. The man turned out to be amazing on defense and eventually learned to score enough so that rival teams couldn't afford not to guard him."
Jones was a part of title-winning teams with the Celtics from 1959 to '66, an eight-year run unmatched in pro sports. The lone season he didn't win a championship was 1966-67, and Jones, at age 34, retired soon thereafter.
But Jones remained in the game, first as coach of Brandeis University outside of Boston and then as either an assistant or head coach in the NBA or ABA before returning to the Celtics as an assistant under Bill Fitch in 1977. Fitch left the team four years later, and Jones replaced him, inheriting a group led by Bird and fellow Hall of Famers Kevin McHale and Robert Parish. Three weeks after Jones took over, the Celtics made a move to acquire Dennis Johnson.
Together, they reached the NBA Finals four straight seasons (1984-87), winning titles in 1984 and '86. Jones' laid-back coaching style was criticized by some, but his players welcomed it.
"K.C. was the nicest man I ever met, he always went out of his way to make people feel good, it was such an honor to play for him," Bird said in a statement. "His accomplishments are too many to list, but, to me, his greatest accomplishment was being such an outstanding person to all who had the privilege of knowing him, I will miss him dearly."
Jones left the Celtics' bench after the 1987 season, moving into the Celtics' front office before finishing his career with coaching stints in Seattle and Detroit.
His No. 25 is retired by the Celtics, and he was inducted into the Pro Basketball Hall of Fame in 1989.
Click here to read more.
SOURCE: ESPN